In Collaboration with Waitrose
This easiest ever No Bake Easter Mini Egg Cheesecake is packed with Easter chocolate treats. A crumbly biscuit base, topped with whipped cream and cream cheese, an absolutely delicious dessert.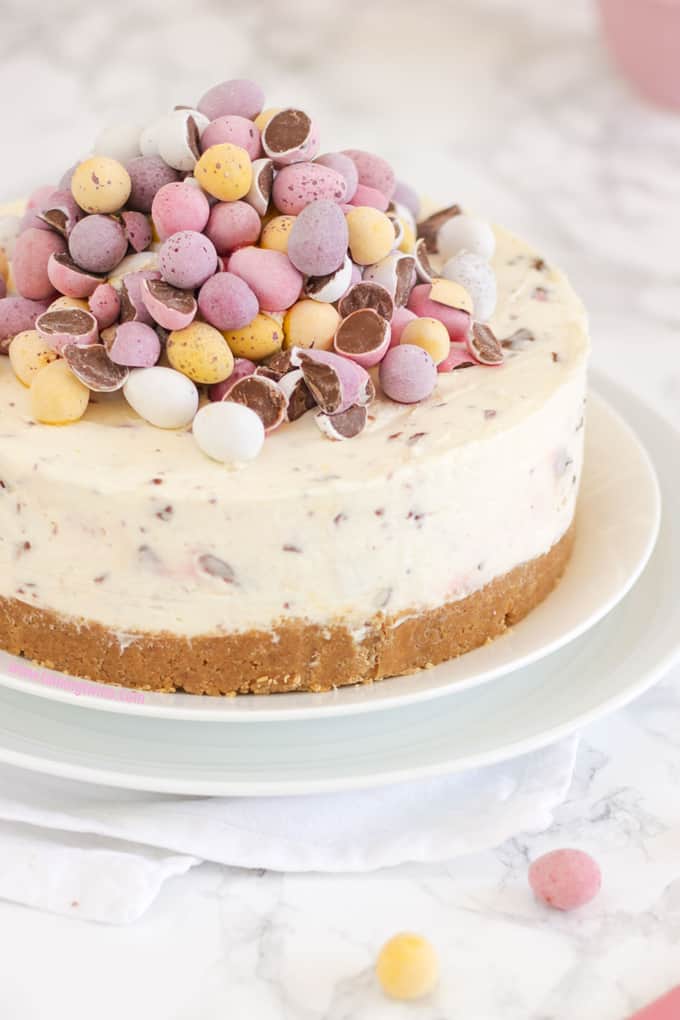 Oh hello Easter desserts, let me count the ways I love you.. Did I tell you that I didn't even really like cheesecake before the infamous Creme Egg No Bake Cheesecake? I was never too keen on the texture, until I fiddled with the recipes I'd tried before and came up with my own.
It was suddenly lighter and fresher, more cream, a bit less cheese, definitely not baked. A cheesecake epiphany if you will. Of course, any recipe in our house gets extra credit if it's simple and quick enough for 1. me to make amidst the chaos of family life and 2. for the kids to help. My basic cheesecake fits all of these criteria (oh and tastes bloomin' lush too, even if I do say so myself).
But then, shocker, people have been mentioning that they don't like Cadbury's Creme Eggs. Which camp are you in, Creme Eggs YAY or Creme Eggs No WAY?!
Fancy signing up to receive our free email newsletter?


It takes less than a minute and you'll get all of our new posts and tips and tricks straight to your inbox! 
Waitrose got in touch with me recently and told me about a competition they are running over Easter, to win a gorgeous luxury hamper. They are asking people what food they will be sharing this Easter, I think dessert would make the perfect Easter Sunday sharing pudding, don't you? (More details on how to enter the competition below.)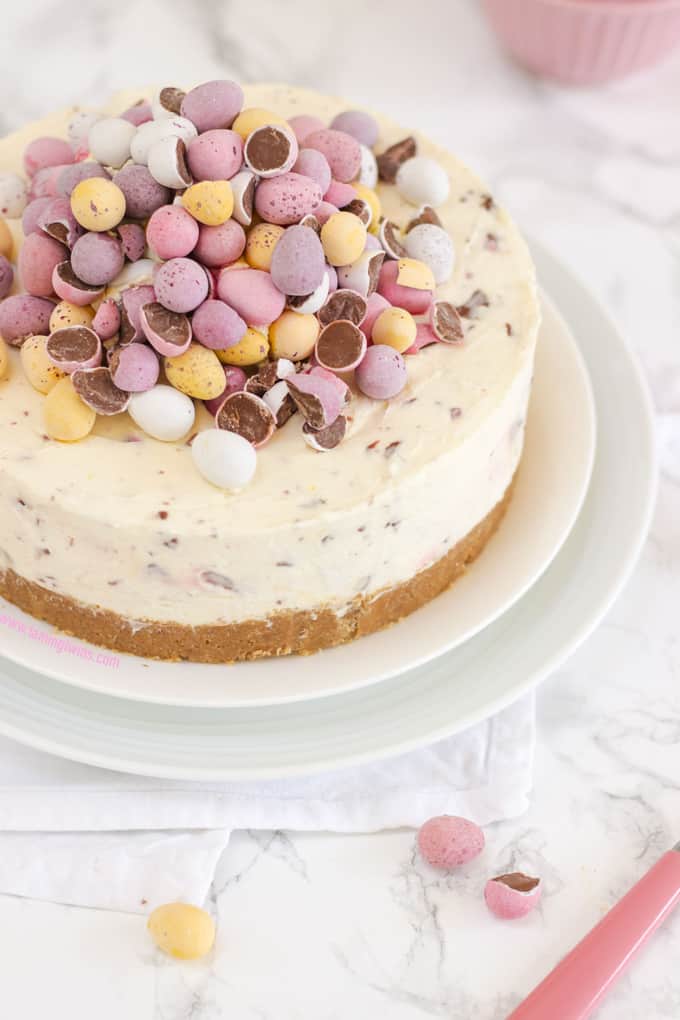 A couple of years ago now I came up with an Easter Ombré Piñata Cake stuffed with Mini Eggs. Those pastel colours still make me think of spring days. I can remember making it and having my toddlers try and sneak those sweet treats off the top of the cake as I photographed them.
Now I have a pair of school children (where does the time go..) but rest assured, they were still sneaking the eggs off of the top of this. Ha!
So this year, I've married the two and made a No Bake Mini Egg Cheesecake for Easter, perfect for Creme Egg haters and normal cheesecake haters alike. Honestly, please give it a try, you'll be a convert. If you're making it who will you be sharing it with? Read on to learn how to win a prize by doing just that..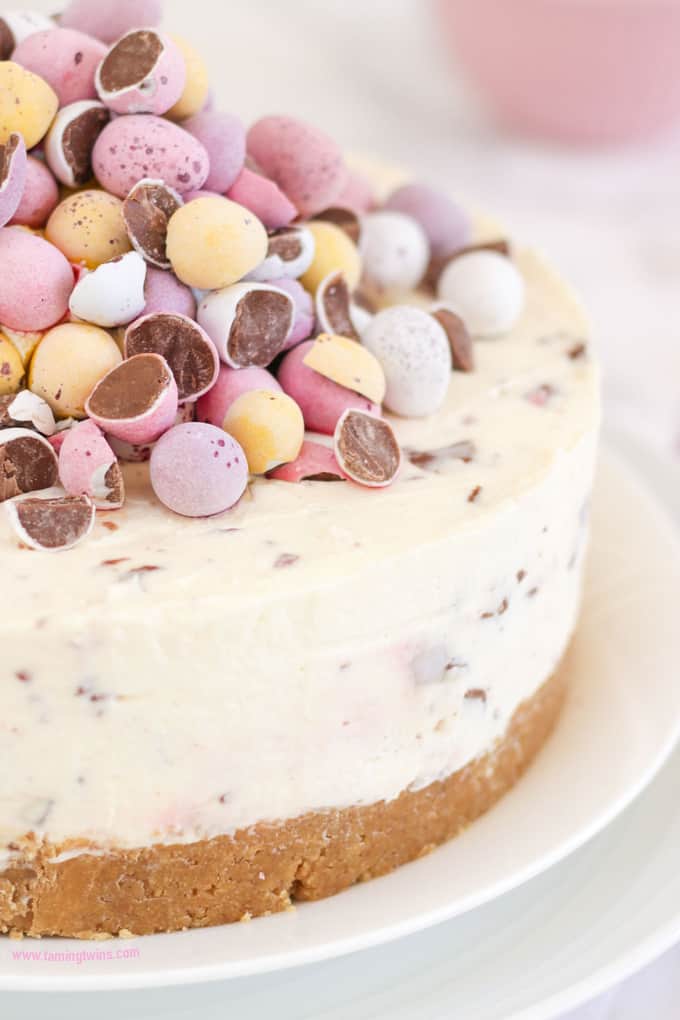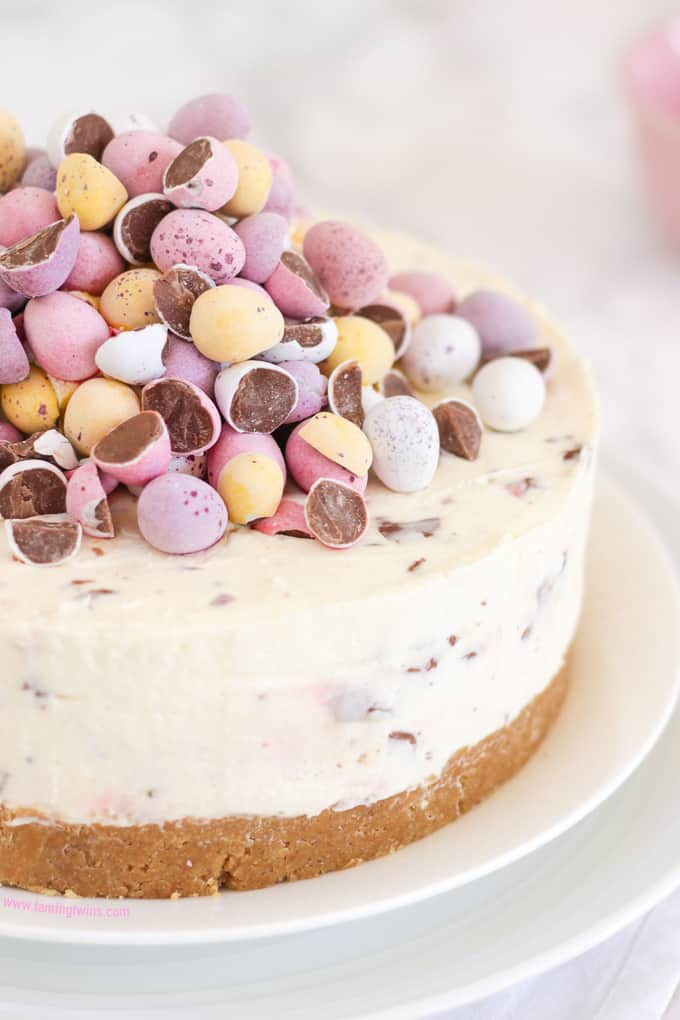 Waitrose are running a competition this month to celebrate the joy of sharing food this Easter. Wouldn't this Mini Egg Cheesecake be just the perfect pudding to share on Easter Sunday?
Whatever you're cooking to share this spring, Waitrose would love to take a peek. Post a photo on Twitter or Instagram, tag @waitrose and use the hashtag #CookAndShare, before 16th April, to be in with the chance to win a gorgeous prize.
Read the full terms and conditions and details of the prize over on the Waitrose site here: #CookAndShare Competition
Tips for making the No Bake Mini Egg Cheesecake:
The consistency should be sliceable but not solid. Something like room temperature butter, it will give a little quiver if you wobble it gently.
When whipping the double cream, be sure to watch it very carefully. It should be just forming soft floppy peaks, but still hold it's shape. Too runny and the no bake cheesecake will be sloppy, too stiff and it will be too dense.
An angled palette knife is a really inexpensive piece of kit but it makes SUCH a difference when smoothing things like this out! You can buy them on Amazon here: Angled Palette Knife
Do sift the icing sugar, it will give a much smoother texture to the cheesecake. Don't ignore this as I normally do!
I would stick to Philadelphia creme cheese for this (and full fat) it seems more stable than supermarket own brands.
Mini Eggs are pretty tricky to cut and crush, please be careful and use a very sharp knife (these are the ones I use, available from Amazon: Global Cooks Knife).
Add more lemon juice if you'd prefer a slightly sharper tang.
Use a tin with either a springform (the type where the side unclips) or a removable base.
Warm a sharp, thin knife under a hot tap and then dry it. Use this to run around the outside of the cake, inside the tin, before removing. Remove the knife and wipe it as you work your way around the cake.
The recipe is for a 7″ DEEP tin (not a standard sandwich cake tin, it will overflow! See the link below for the type of tin I use). You can use smaller or larger but your cheesecake will obviously be taller or shorter. I would DEFINITELY recommend this tin though as it is a great size and very easy to use.
One final tip, don't forget to sign up to our newsletter to find out when we post new recipes!
What I used to make the No Bake Mini Egg Cheesecake: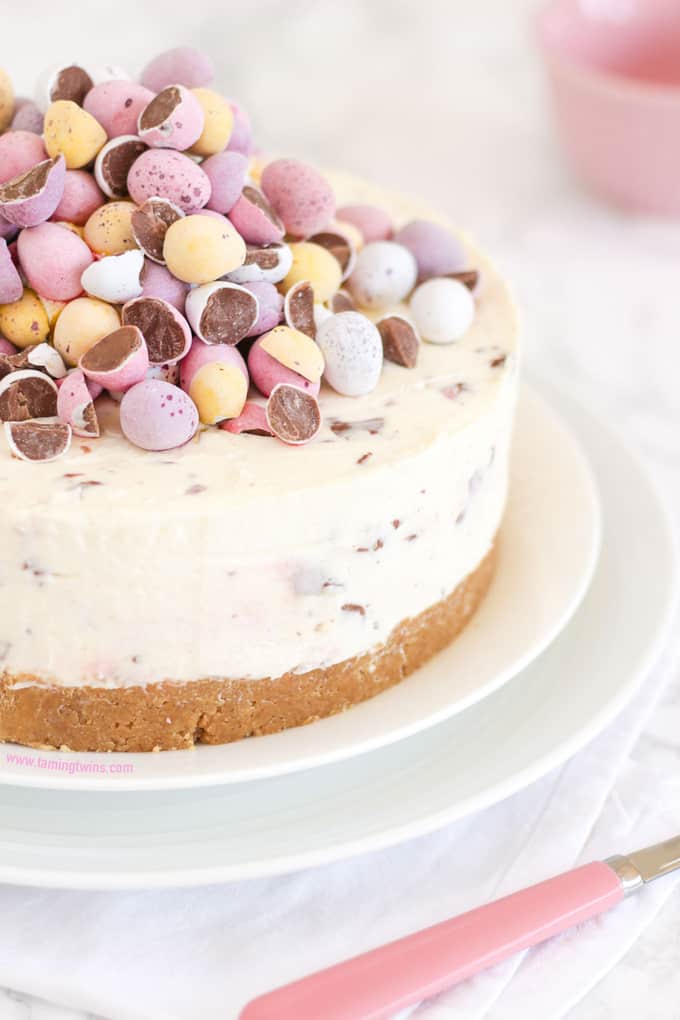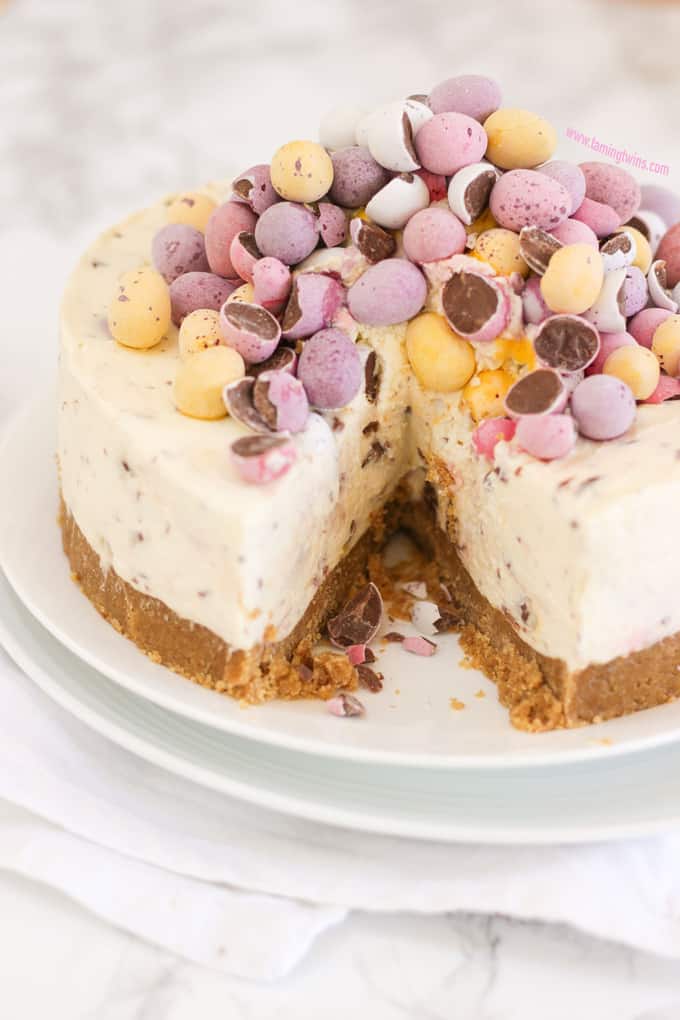 Here's the video of how to make the Tips the No Bake Easter Mini Egg Cheesecake: (2 MINUTES):
Recipe for the No Bake Easter Mini Egg Cheesecake:
No Bake Mini Egg Cheesecake
Ingredients
280g Digestive Chocolate Biscuits
140g Butter (Unsalted), melted
360g Mini Cadbury's Mini Eggs (plus 270g to decorate) (about 7 small bags in total)
550ml Double cream (plus 50ml to decorate) (lightly whipped until it forms soft peaks)
140g Icing Sugar, sifted
2 x 280g Tubs of Philadelphia Cream Cheese (Full fat)
Juice of half a lemon
Instructions
Crush the biscuits until they look like lumpy sand. (I did mind in a food processor because I'm very lazy..)
Mix with the melted butter and press into your 7" tin.
Chop the 360g of the Mini Eggs in half.
Combine the whipped cream, icing sugar, cream cheese, lemon juice and chopped Mini Eggs. Fold in gently until fully combined.
Smooth on top of the biscuit base and flatten the top with the back of a spoon or a palette knife if you have one.
Chill for 2 hours or even better, over night.
Use my knife tip (above) to remove the cheesecake from the tin.
Plop the remaining whipped cream on top of the cheesecake and pile on the remaining Mini Eggs (some chopped in half).
Share and enjoy!
Pin the No Bake Easter Mini Egg Cheesecake for later:
Don't fancy Mini Eggs? How about….
My Cadbury's Creme Egg No Bake Cheesecake (viewed over a million times!)
Or my Creme Egg Rocky Road Recipe?
Fancy signing up to receive our free email newsletter?


It takes less than a minute and you'll get all of our new posts and tips and tricks straight to your inbox! 

Disclosure:
This post was sponsored by Waitrose. As always, all opinions are my own. Post contains affiliate links.