You know my feelings on eating out with toddlers. There must be stickers, quick service, understanding staff and carbs in abundance (for us all). Our dining options are normally pretty limited but I'm pleased to say that we've added another chain to our "acceptable to visit with a pair of crazy toddlers without major embarrassment" list. Hurrah! TGI Friday's welcomed us with open arms last week and we loved it.
TGI Friday's takes me right back there to the 90s. It was the first place I went for dinner in a real grown up restaurant, with A BOY and it was the first place I ordered a cocktail (a Zombie in case you're interested). I haven't been to one for years so when they invited us to try them out, I was ready to don a scrunchie and relive my yoof. (Not really, I took the children and my pal Nicola.)

We were seated as soon as we arrived and the children were given a little party bag of drawing goodies which they loved. We started with cheesey nachos to share. The salsa and guacamole topping the (home-fried) nachos were fresh, zingy and obviously just made. If there was any pre-packed chain restaurant fayre here, it's certainly hidden well.
G taught Nicola about the Octonauts and H practised hair brushing on her terrified looking birthday doll. Our main courses arrived in perfect time, just as the colouring pencils and paper had been dispatched to the floor. My half rack of Jack Daniels ribs were falling off the bone, served with a syrupy Jack Daniels sauce that was as good as I remembered it.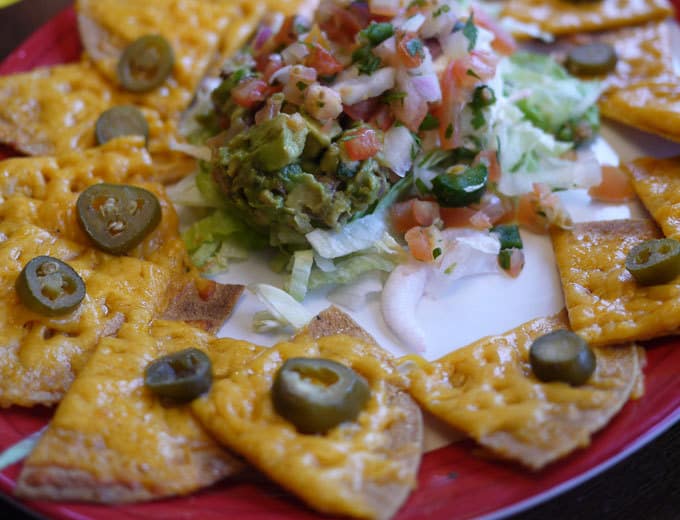 Nicola enjoyed her (almost impossible to pick up) burger and G&H both inhaled their chips (of course). The fish fingers and burger main courses they had chosen were less impressive that the adult mains, standard chain restaurant frozen food, although they were accompanied by a welcome (by me) pot of crudites perfect for little fingers.
We finished off with ice-creams all round. A nice touch that the children's puddings were served with a premium tasting chocolate sauce, rather than the very synthetic type so often served with kids desserts. We made our way home, very full and happy to have another restaurant we're able to visit without needing to make a sharp exit on account of toddler behaviour.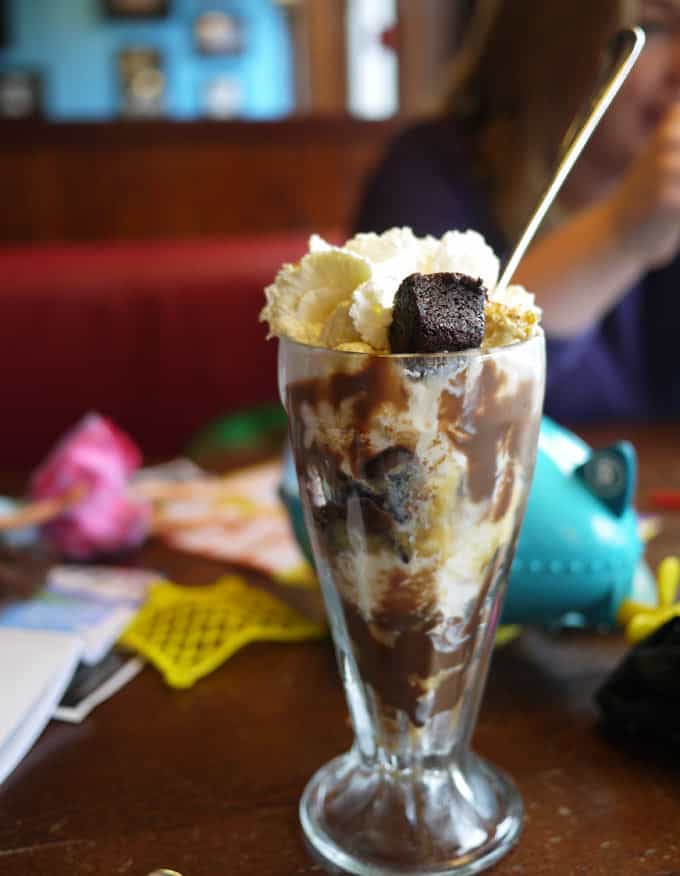 Things we loved about TGI Friday's:
Friendly staff
The fairly loud restaurant, makes us seem not quite so noisy
Different sections of the restaurant, mean that you don't feel like you're sitting by a bar with children, annoying grown-ups.
Quick service.
Colouring books.
We don't have any allergies but they have a really clear gluten and lactose free menu (including one for kids) which I can imagine is really appreciated if you need it.
Things we didn't like quite as much:
"Mummy not letting my ride on the display motorbike." (Sorry kiddo.)
I felt that the presentation of the dishes lacked something. Apart from my ribs, that spoke for themselves, the other main dishes looked rather plain, plonked onto white plates.
The staff, the service and the food were all excellent for a family meal with children. We'll certainly add TGI's to the list of places we're not afraid to take toddlers.
TGI Friday's are open for Mother's Day this Sunday. If you fancy visiting your nearest restaurant you can find it and book online here: TGI Friday's.
Sarah x
We were invited to dine as guests of TGI Friday's but all opinions are my own.
Let's be friends..
Keep in touch on Facebook ¦
Chit chat on Twitter ¦
Never miss a trick on Bloglovin' ¦
Circle with me on Google+ ¦
Pinning like my life depends on it Pinterest ¦