Growing up in deepest darkest Essex, Pizza Express was the height of sophistication. There were candles on the tables and dough balls on the menu. Say what? We weren't posh enough for that, we were more of a Wimpy kind of family.
As I grew up and spread my wings (to Dudley.. Oh the glamour)  I shunned Pizza Express. Chain restaurants, not for me darrrr-lings. I was all about the hip or the stylish. The street food or the Michelin stars.
Then. I had children.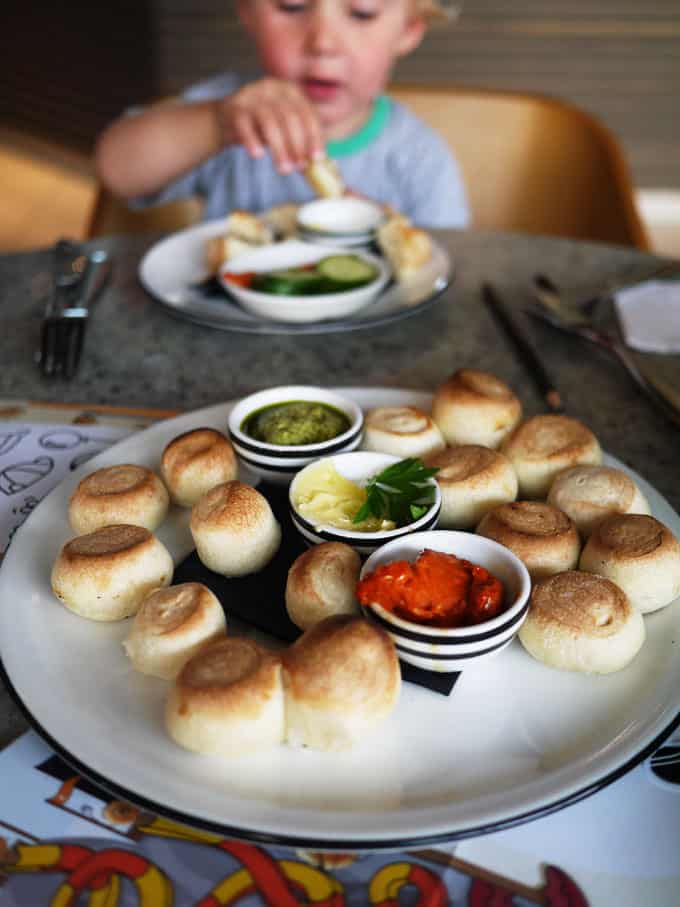 As my pair turned two last year, this is it we thought, time to get back on the eating out wagon we thought. Time to enjoy a leisurely lunch, watching the world go by whilst quaffing some wine we thought. Fools we were.
We'd worked our way through a circuit of family restaurants, some chains, some independent. Trying to find somewhere that we could all have a little outing, be fed and not end up with me having a nervous breakdown, trying to contain a pair of miniature human dynamos. Feel my pain? (My friend Emma wrote a very funny blog on this very subject: Eating out with Toddlers Dream vs. Reality).
Suffice to say, we were about to give up and resign ourselves to a lifetime of fishfingers at home until we re-discovered Pizza Express.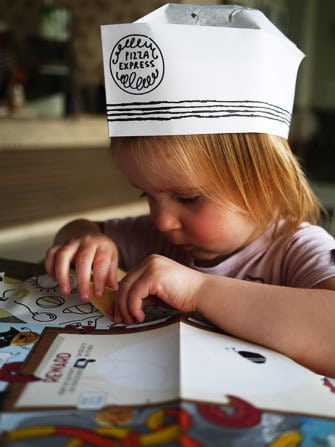 Things we love about Pizza Express:
Chef hats for the children.
Pots of pencils and stuff to scribble on (other than the tables).
Dough balls.
Watching the pizzas being made.
Fresh food, well made.
Super friendly and accommodating staff.
DOUGH BALLS.
Brilliant value 3 course kids menu.
Quick service.
Stickers that you can put on Auntie Naomi's head to make her look like a loon.
MORE DOUGH BALLS.

Eating out  with kids can be so expensive, but Pizza Express almost always have a special offer on somewhere or the other. You can also exchange your Tesco Clubcard points for vouchers to spend there. Buy wine at Tesco, get free pizza. Win win.
I now trade off good behaviour for dough balls. When I ask them where they want to go for a treat? It's all about those bloomin' dough balls. I can't argue with that though.

Oh Pizza Express, of all the chain restaurants in all the world. I do love you. Thanks for saving my sanity.
Do you take your kids out to eat? Any favourites or recommendations? Do you agree that stickers are the answer to most toddler problems?
Sarah x

This is not a review post and is not written in conjunction with Pizza Express. I just love them!
Let's be friends..
Picture this on Instagram ¦
Keep in touch on Facebook ¦
Chit chat on Twitter ¦
Never miss a trick on Bloglovin' ¦
Circle with me on Google+ ¦
Pinning like my life depends on it Pinterest ¦