That lovely husband of mine, does not ask for a lot for Christmas. In fact, he makes a point of being clear that he doesn't need anything apart from his little family to make his Christmas (pukey I know). This makes gift shopping a tad difficult (not to mention making my subtly dropping my own wish list hints a bit embarrassing). However, he does have one non negotiable Christmas necessity, and that's a home baked ham to eat cold out of the fridge over the festive period.
First things first though, the Festive Food Friday linky last week was as delicious as ever. Thanks so much for reading and sharing and generally joining me in my Christmas food over excitement! Please pop back and have a look if you need some festive food inspiration. Over on Instagram this morning you can see my favourite #festivefoodfriday photos there. My favourites on the blog last week were…
This amazing, show stopping (but secretly simple) Chocolate Frozen Caramel Cream Meringue Cake from Julie at Julie's Family Kitchen (that is the stuff of my dreams!), Lebkuchen by Sophie at Penne for your Thoughts (as I love these spicy little biscuits but have never quite got around to making them), Stollen Biscotti by Angela at Patisserie Makes Perfect (I love a good foodie hybrid, biscotti AND stollen?! What's not to like?) and finally Quick and Easy Mince Pies by Mel at Le Coin de Mel (because she included a mince pie making tip I'd never thought of and love. Pop over to have a read.)
So, my post today is preparation for meeting Mr TTs only Christmas wish. Baked ham. I had a pack of Seasoned Pioneers Mulled Cider seasoning mix that has been calling my name since Christmas appeared on the horizon. It's a mixture of cinnamon, orange, cloves, allspice and star anise. There are other brands of cider seasoning in the supermarkets, so anything similar would be fine, although I have to say, this one does smell amazing.
Spiced Cider Baked Ham
A great festive meal, this delicious baked ham is perfect for a family gathering and buffet.
Total Time
1
hour
10
minutes
Ingredients
Smoked

bone out gammon (about 2kg)

1

litre apple juice

Pack of cider spice mix

1

onion

cut in half

1

carrot

cut in half

500

ml

bottle of cider
For the glaze:
6

tablespoons

of honey

3

tablespoons

of dark brown sugar
Instructions
Put your gammon into a large pan and add the apple juice, cider spice mix, onion, carrot and cider. If the liquid is less than two thirds of the way up the gammon, top up with water.

Cook according to the timings on the gammon, normally 20 minutes per lb + 20 minutes. Work out the total cooking time and boil in the liquid for this time minus 30 minutes.

When the boiling time is complete, remove from the liquid and discard the vegetables, liquid and spices.

Remove the string and layer of fat/skin (if your gammon has them). Score the fat.

Put into a roasting pan and drench in the honey. Pat the sugar onto the honey. (Make sure you line the baking tin with tin foil as the honey and sugar combo can really stick to the pan!)

Roast for the remaining 30 minutes at about 200C until the ham is just blackening and crispy at the edges.

When cold, store in the fridge and enjoy whenever a festive nibble is required.
Nutrition Facts
Spiced Cider Baked Ham
Amount Per Serving
Calories 132
% Daily Value*
Total Fat 0g 0%
Cholesterol 0mg 0%
Sodium 13mg 1%
Potassium 78mg 2%
Total Carbohydrates 28g 9%
Protein 0g 0%
* Percent Daily Values are based on a 2000 calorie diet.
Looking for more festive ham recipes? You can find Traditional Honey Glazed Ham over at Jo's Kitchen, Roast Gammon for Christmas at Cooksister and Salted Caramel Ham (oh yes!) at Big Spud.

So! Fancy showing me what festive food love you're feeling this week? Here's how it works:
Instagram
Tag any festive food or drink photos with #festivefoodfriday.
Each week I'll pick the most mouthwatering/funny/calorific and repost them.
You can follow me @tamingtwins. Please say hello!
Blog Linky
Please add the badge below to your post. (I'll be super grateful.)
Link up your festive season food or drink posts using the widget below. They can be recipes, round ups, drinks, meals out, anything that's inspiring to festive food lovers.
You can add up to 3 posts each week if you'd like.
I will pin all of the posts added to my Pinterest board, which has over 70,000 followers.
The linky will be open until Wednesday the following week.
Please visit and comment on at least 2 of the other posts that have linked up, per post that you add. Spread that Christmas cheer!
If you follow me on Twitter and tweet a link mentioning @tamingtwins and #festivefoodfridays, I will RT them.
Each week I will write a round up, linking to some of my favourite posts from the week before.
Please spread the word, the more the merrier!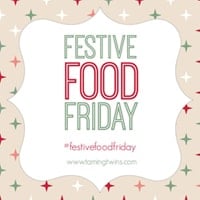 Can't wait to see what festive makes and bakes you have in store this week! Don't forget to share on Instagram too by using #festivefoodfriday.
Sarah x
Let's be friends..
Picture this on Instagram ¦
Keep in touch on Facebook ¦
Chit chat on Twitter ¦
Never miss a trick on Bloglovin' ¦
Circle with me on Google+ ¦
Pinning like my life depends on it Pinterest ¦