Every year I'm the same. About this time, I say to long suffering Mr TT, "it's so strange, I don't feel very FESTIVE yet, you know?". He gives me this long suffering "you've-already-bought-a-mountain-of-Christmas-shizz-what-are-you-talking-about?" look and carries on reading the paper.
Then, I get the mixed spice and Nigella's Christmas book out and do some baking and there, all is well with the world and the festive season is upon me. I adore festive baking, it feels like an excuse to create something for anyone and everyone. It feels like a need to bestow sugary treats upon everyone and anyone as my final good deed for the year. Oh and I love cinnamon.
So, as I mentioned last week, I'd LOVE to share the food festivities with anyone else who loves Christmas food as much as me! You can read about my little blog linky at the bottom of this post.

First things first, this here cake. You know me, I can make an excuse for a layer cake out of anything. Of course Christmas would be no different. I made this cake two years ago for the first Christmas party that my NCT group and I shared. All of our teeny weeny babies are now crazy toddlers and they would adore this cake. It's not a rich, dark, grown up cake. It's a light, soft sponge, not too rich. Perfect for a children's Christmas party or an afternoon tea.
Here's a little video of me putting it together…
Spiced Chocolate Layer Cake
A perfect festive layer cake with spiced chocolate.
Ingredients
450

g

unsalted butter

225

g

caster sugar

225

g

soft light brown sugar

8

medium free range eggs

400

g

self raising flour

4.5

tablespoons

of good quality cocoa

like Green & Blacks

1

tablespoon

mixed spice

1

tablespoon

cinnamon

3

tablespoon

milk
For the icing:
600

g

unsalted butter

900

g

icing sugar

Sugarflair Gel Food Colours Holly Green/Party Green

Sugarflair Gel Food Colours Ruby/Christmas Red
Instructions
Grease 3 x 7" round sandwich tins.

Preheat the oven to 180C.

Cream your room temperature butter with your sugars until it's pale, light and fluffy.

Mix in the eggs, one at a time, beating really well after each egg. Don't worry if it starts to look a bit curdled, it'll all come good.

Mix in your flour,cocoa, mixed spice and cinnamon. If you've been using a mixer, do this bit by hand. It helps to keep the sponge light.

Stir in the milk.

Spoon into a your tins, smooth out with the back of a spoon. Make a bit of a dip in the middle to account for rising. (I am a bit OCD and tend to weigh mine into the tins to make sure they are all the same size, there should be about 800g of batter in each tin.)

Bake for about 30 minutes or until a skewer comes out clean. You might need to adjust the time by 5 minutes either way depending on your oven.

Meanwhile make your icing. Beat your butter until it's pale, light and fluffy.

Beat in your icing sugar and vanilla. Beat in a teaspoon or two of boiling water to soften and lighten the texture of the icing.

When your cakes are completely cold, use a carving knife to level them. Just trim the top crust off. This is important, it's not a waste of cake (taste testing compulsory). If you don't do this, with a cake this size it will be wonky. Then trim each sponge in half so you end up with 6 layers.

Colour 200g of buttercream red and 200g green.

Sandwich each layer together with alternating coloured buttercream.

Use the remainder of the buttercream to cover the cake and pop some swirls on top.
Nutrition Facts
Spiced Chocolate Layer Cake
Amount per Serving
% Daily Value*
* Percent Daily Values are based on a 2000 calorie diet.

Hope you enjoy the cake! Now.. Fancy showing me what festive food love you're feeling this week? I'd love you to share with me, I'm having new linky anxiety and hope at least one or two of you join me, or it'll just be me lusting over mince pies from now until Christmas. So, here's how it works:
Instagram
Tag any festive food or drink photos with #festivefoodfriday.
Each week I'll pick the most mouthwatering/funny/calorific and repost them.
You can follow me @tamingtwins. Please say hello!
Blog Linky
Please add the badge below to your post. (I'll be super grateful.)
Link up your festive season food or drink posts using the widget below. They can be recipes, round ups, drinks, meals out, anything that's inspiring to festive food lovers.
You can add up to 3 posts each week if you'd like.
I will pin all of the posts added to my Pinterest board, which has over 50,000 followers.
The linky will be open until Wednesday the following week.
Please visit and comment on at least 2 of the other posts that have linked up, per post that you add. Spread that Christmas cheer!
If you follow me on Twitter and tweet a link mentioning @tamingtwins and #festivefoodfridays, I will RT them.
Each week I will write a round up, linking to some of my favourite posts from the week before.
Please spread the word, the more the merrier!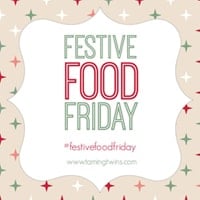 There we have it, hope you enjoy and I can't wait to see what you're all up to!
Sarah x
Let's be friends..
Picture this on Instagram ¦
Keep in touch on Facebook ¦
Chit chat on Twitter ¦
Never miss a trick on Bloglovin' ¦
Circle with me on Google+ ¦
Pinning like my life depends on it Pinterest ¦