12 Top tips for school uniform buying. How much to buy, how to keep it from getting lost and everything in between.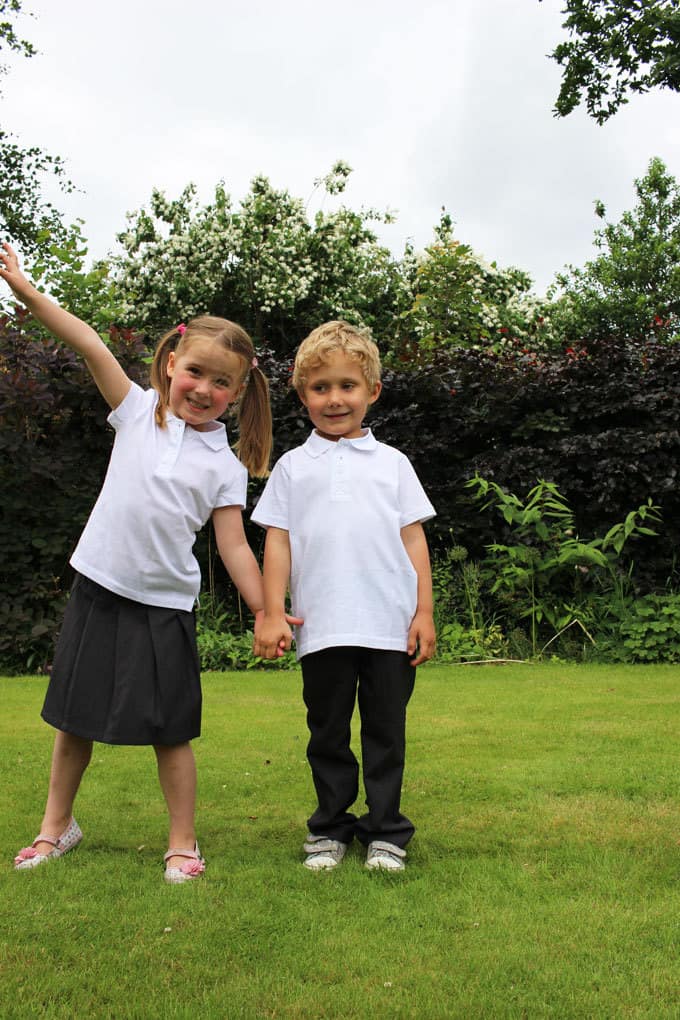 Earlier this week we reviewed the £3.65 school uniform from Lidl, this has spurred me on to think about how much to actually buy, how to label it and a million other questions about this new uncharted territory.
I thought I'd consult other mums in the know, so I asked other parenting bloggers for their tips and advice on school uniform. Here's what they came up with:
"Label everything, as they will lose it!" – Louise, A Strong Coffee
"Buy loads of white polo shirts – they go grey and the neck goes so grubby, no matter what you do." – Rachel, Coffee Cake Kids
"Make sure that their bags or lunchbags are big enough to carry their water bottle in. One less thing to carry!" – Beth, Twinderelmo
"At the end of term a lot of schools sell off all the unclaimed lost property." – Kate, Family Fever (This would be a great way to pick up the expensive logo'd sweaters that some schools specify.)
"If your child has a packed lunch try to find one with a long bag strap. This helps little ones to carry their own bags but also helps the parent out if you end up with all the bags." – Carla, RTOATS
"Buy at least THREE of everything, it gets unbelievable dirty." – Megan, Truly Madly Kids
"If you have more than one child at school get them different coloured school socks." – Jo, Sit Still Monkeys
"Bulk buy in the summer whilst stocks are at their peak. I also tend to buy one pack of the next size up too. It can be so difficult to find and buy uniform in the spring and the prices are bumped up too." – Carla, RTOATS
"If you have the option of sock colours, don't opt for white! They get filthy very quickly." – Jo, Mum Friendly
"Snappy snaps labels are a fab and v simple way to label clothes! Not cheap but reusable, you big a set of tags with a name lasered on (we did surname only) and they just snap on! When the clothing is finished with, you snap them off again to reuse." – Becca, Pears and Chocolate Sauce
"If you have uniform that have gone too small, check whether your nearest food bank take them in as donations. My local one does this and it's nice to know that they are going to a family in desperate need." – Becky, Hectic Diabectic

Thanks so much for all of the wise mums who contributed. I hope those tips were useful, I'd love to know if you have anything to add. All pearls of wisdom gratefully received!
PS. Don't forget, the great value Lidl school uniform range can be found in stores from 21st July and you can find full details of the range on the Lidl website.
Pin this post for later..
Disclosure: This post was commissioned by Lidl. As always, all opinions are truthful and I wouldn't endorse a product I didn't genuinely think was excellent.
Keep in touch on Facebook ¦
Chit chat on Twitter ¦
Never miss a trick on Bloglovin' ¦
Circle with me on Google+ ¦
Pinning like my life depends on it Pinterest