Being everso slightly food obsessed almost all of my plans for any event or occasion revolve around the food. If there's a holiday coming up, I'm not ashamed to admit, I will be thinking of the baklava or the Greek salad long before I plan the beach outings. Birthdays? Obviously the cake is top priority. Christmas? I'm already thinking about which mince pies I will be making.
But summer, when the talk turns to Pimms. I come over all a bit.. Meh. Barbeques, mojitos, fresh fruit, I am all over that seasonal eating. But the Pimms? I can't quite love it as much as I want to. It's just too sweet for my boozing tastes, so, I ask you, what treat cannot be improved by putting it into a giant cake?!

I made this for our first barbeque of the year and everyone loved it. It was so well received, perhaps something about piles of fruit on top helped us to convince ourselves that it was the healthy option for pudding? Anyway, it really is a simple to make show-stopper. Just the way I like 'em.
I love a homemade cake more than most people but here's a secret, in you're in a push you could construct a cheat's version of this cake. Buy a ready made Victoria Sponge and a tub of ready made icing, make your syrup and decorate with fruit. Bob's your uncle, Pimms Cake there you go. Perfect take to a barbeque cake.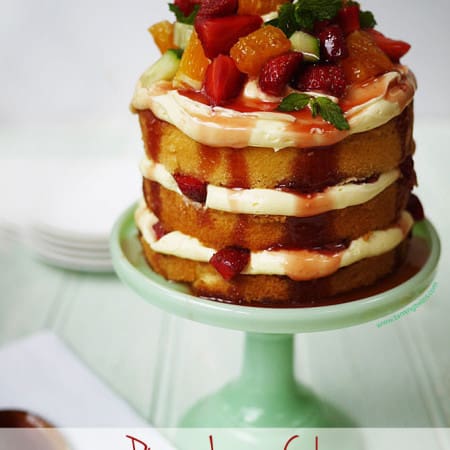 Pimms Layer Cake
Ingredients
350

g

Unsalted butter

350

g

Caster sugar

6

Free range eggs

350

g

Self raising flour

For the syrup:

300

ml

Pimms

100

g

Caster sugar

For the icing:

150

g

Unsalted butter

300

g

Icing sugar

To decorate:

Half a cucumber

sliced and chopped into small pieces

2

Oranges

peeled and cut into small pieces

350

g

Strawberries

hulled and cut into small pieces

A handful of small sprigs of mint
Instructions
Grease 3 x 7″ round sandwich tins (or 2 x 8″).

Preheat the oven to 180C.

Cream your room temperature butter with your sugar until it's pale, light and fluffy.

Mix in the eggs, one at a time, beating really well after each egg. Don't worry if it starts to look a bit curdled, it'll all come good.

Mix in your flour. If you've been using a mixer, do this bit by hand. It helps to keep the sponge light.

Spoon into a your tins, smooth out with the back of a spoon. Make a bit of a dip in the middle to account for rising.

Bake for about 30 minutes or until a skewer comes out clean. You might need to adjust the time by 5 minutes either way depending on your oven.
Make the syrup:
Pop the Pimms in a pan with the sugar and bring to the boil. Continue to let it bubble for about 6 or 7 minutes until it has thickened. Allow to cool (it will get thicker as it cools).
Make your icing:
Beat your butter until it's pale, light and fluffy.

Beat in your icing sugar, beating for at leave 5 or 10 minutes until very fluffy and pale.

If the white icing is quite stiff, add a little boiling water to soften it.
Put it together:
When your cakes are completely cold, use a carving knife to level them. Just trim the top crust off. This is important, it's not a waste of cake (taste testing compulsory). If you don't do this, with a cake this size it will be wonky.

Drizzle a couple of dessert spoonfuls of syrup over each layer of sponge cake.

Sandwich each layer together with some of your buttercream and some of the fruit (reserving plenty of fruit, and the mint, for the top).

Put a dollop of icing on top of the cake and pile on the fruit. Drizzle the remaining syrup and decorate with mint leaves.

Are you a Pimms fan or do you agree that the best place for it is in a cake? What's your favourite taste of summer?
If you'd like some more Pimms dessert inspiration, have a look at these Pimms Tarts and another Pimms Cake.
This post was sponsored by Rennie® as part of their #SummerTreats campaign. Read more information on Rennie® at RENNIE INDEGESTION.
Keep in touch on Facebook ¦
Chit chat on Twitter ¦
Never miss a trick on Bloglovin' ¦
Circle with me on Google+ ¦
Pinning like my life depends on it Pinterest ¦