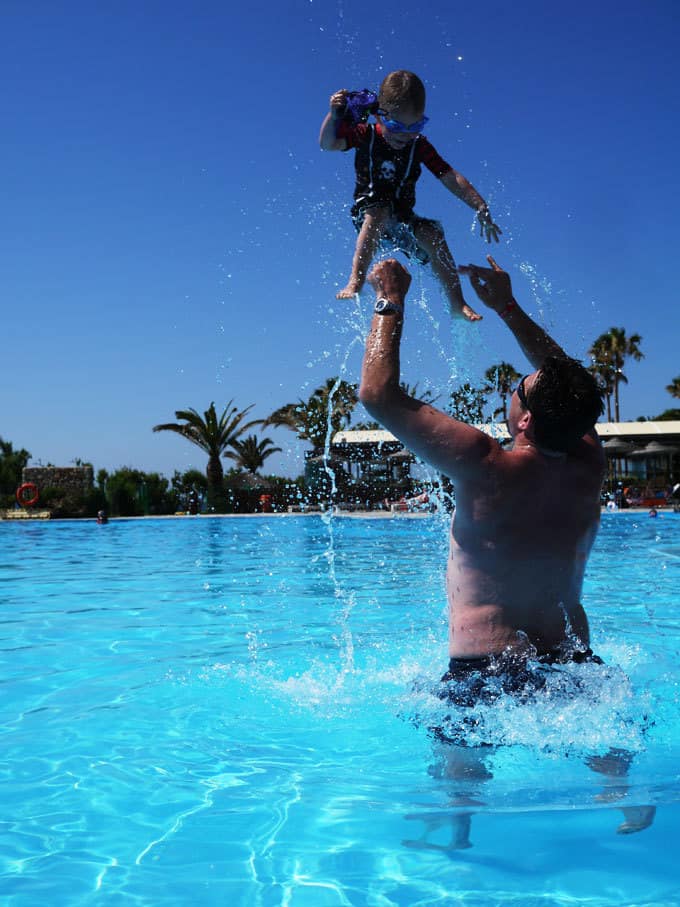 If you have a set of toddlers, you will know that sometimes, life is a bit, how shall we say? Full on? Our days are a whirlwind of finding shoes and being late and playing chase and "where's MY juice?". I'm so busy finding the energy I need for the day, that sometimes I forget to stop, and take a second to just enjoy this life we made.
Then, there's a moment where the stars align and everyone is happy, and oh how I just want to bottle those memories. Last month, we spent a blissful week at the Mark Warner resort in Kos, Lakitira. It was a week full of those moments. Moments I want to keep filed away somewhere deep in my brain. G's shrieks of glee as he leaped fearlessly into the pool, H tucking into her third giant slice of watermelon before 9am, the four of us eating ice creams, with sandy toes, counting the boats in the salty breeze. It. Was. Dreamy.
Here's some of my favourite moments in a little video of our week…
I know it sounds silly, but I'd kind of forgotten how lovely a totally relaxing holiday could be. Don't get me wrong, we've had some really wonderful trips with the children. But they do tend to be more on the how shall we say? Adventurous, rather than calming, end of the scale. Sometimes, you just do need to switch off, listen to the quiet lapping of the sea and read a book whilst sipping a mojito don't you?
This holiday was so well crafted and planned for families with young children, that it gave us time to really enjoy every moment with the children but also totally relax, more so than either of us have done for years. From the moment we arrived at the hotel, every single thing we could need (and more) was there and ready and waiting, all delivered by the most wonderful, helpful staff.

I don't know if the children respond to us being calmer (I blame those cocktails) or the fact that they were allowed 3 ice creams a day (if you can't do it on holiday – when can you?) but they were absolutely wonderful all week. No tantrums, hardly any grumps, slept like a dream and so full of joy and excitement that I could've kissed their little faces at every turn.
Not to be too gushy or emotional but this week spent in Kos made me so incredibly proud of my tiny two. They raced headfirst into all of the new experiences they were faced with, brimming with confidence and smiles. They made the new environment their home within about 3 seconds and charmed everyone they spent time with. Oh how they made my heart swell.
(In a manner similar to William Wordsworth remembering his daffodils, I'll remember these moments when we are mid-tantrum on a rainy October afternoon!)

My lovely husband has worked so hard this year, we had a somewhat heated discussion before we came away, that ended with me rather putting my foot down and telling him he needed a week with no work. Sometimes you have to be bad cop, don't you? Anyway, in the end he conceded that he did need a break. I was so happy to see him get this on our trip.
While I was getting ready for dinner in the evenings, he'd sometimes sneak out early and I'd find him here, in his happy place. Mulling over yet another gorgeous day done, with a cold beer, watching the daylight fade.
(I snapped this before he realised I was there and he nearly spilled his beer when I made him jump!)

I think there's certain trips that always have a special place in your heart, a first trip abroad alone as a grown-up, a gap year, a honeymoon. Well, this will forever be a special trip for us, not only as the first time we'd had a week off together and unwound for years, but also, because it was the first trip that we took two awesome little friends along with us, rather than our tiny babies.

Our tans have faded and I've done a billion loads of washing since we returned to normal life, but the memories of that week are still so fresh in our minds. We're already thinking about our next Mark Warner trip..
PART TWO of our holiday to Lakitira with Mark Warner is here: Lakitira the Nitty Gritty
Mark Warner kindly gave us a discount on our holiday for the purposes of this review. All views are our own and we were in no way required to write a positive review. We just loved it!
Keep in touch on Facebook ¦
Chit chat on Twitter ¦
Never miss a trick on Bloglovin' ¦
Circle with me on Google+ ¦
Pinning like my life depends on it Pinterest ¦