Any weekend that kicks off with friends, Bucks Fizz and loads of chocolate before 10am is definitely in a winner in my book.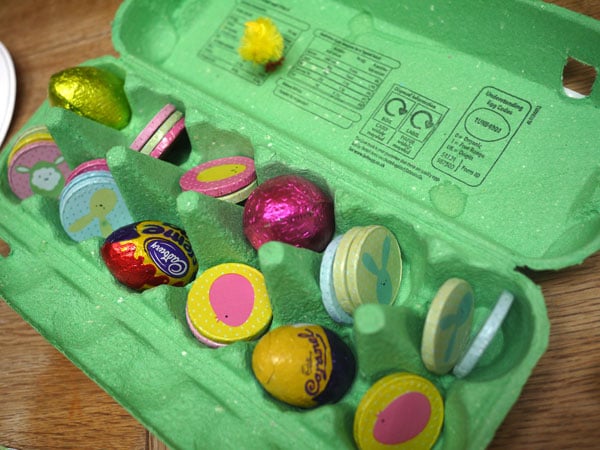 Bunny marshmallows!

After everyone got settled in, the children all took their buckets and we let them loose in the garden. I'd love to show you what happened next but I'll have to tell you instead.. I had carefully placed 32 markers and eggs around the garden that morning, thinking, 'that'll keep them busy for at least an hour, the little scamps'.
Oh how wrong I was. They were out of the door and this terrifying pack of 7 two year olds had ransacked the garden in less than 5 minutes.
I looked around and the next thing I saw was overflowing buckets and them all tucking in. Clearly they move quickly when chocolate is involved..

We thought it was probably best to follow up the chocolate breakfast with something a bit more substantial. I had grand plans for an Easter themed buffet, but they seemed to get lost in a haze of Easter sticker book excitement and making cakes.
Everyone happily settled for some fresh bread and bits and bobs from our village deli. Oh and a pile of sausages. Always a winner with a hoard of hungry toddlers (and Bucks Fizz'd mummas).

Oh! G&H and I did make filo pastry nests. We added grated Parmesan and halved cherry tomatoes, to 'nests' of strips of filo pastry and baked until crisp. (Thanks to the tip on making savoury nests on the Center Parcs blog here.)

To round off the afternoon, we polished off the cupcakes. More eggs don't count it they are on top of a cupcake, right? RIGHT?
I hope you had an amazing Easter. Are you as sick of the sight of chocolate as I am? (Until next week anyway..)
Sarah x
PS This is my entry to the Center Parcs and Tots 100 April challenge. If I'm chosen, I would like to visit Longleat Village.
Let's be friends
Keep in touch on Facebook ¦
Chit chat on Twitter ¦
Never miss a trick on Bloglovin' ¦
Circle with me on Google+ ¦
Pinning like my life depends on it Pinterest ¦