A delicious, quick, green smoothie made with Optiwell for added protein.

I've really been trying to focus on eating more of the good things in recent months. If you follow me on YouTube you'll have seen me chatting about my get healthy mission, I've even been seeing a personal trainer twice a week (get me!)
However, as you know, we were away in beautiful Lemnos with Mark Warner last week and seriously, who can say no to ALL THE FETA. It was the most wonderful week, full of beautiful food and drink but now I'm home, I definitely need to recover from three course meals three times a day.
For the coming few weeks, I'm going to be starting my day with this green smoothie. It's made using Optiwell, which gives it a delicious fruity flavour and means that it has over 4g of protein per glass. Not a huge protein hit, but enough to keep me fuller than a normal green smoothie, which is just veggies.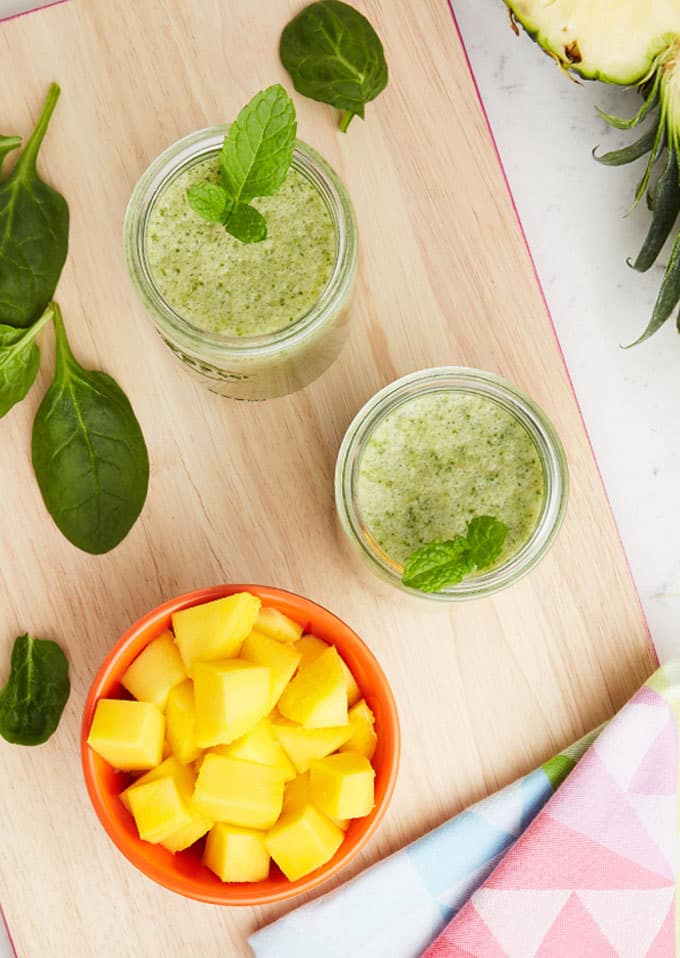 Tips for the Optiwell Green Smoothie:
I use my BRILLIANT Froothie Optimum Blender to make my smoothies. They are particularly useful for green smoothies, where you really want the green leaves to be blended to liquid. I can't recommend them highly enough if you're in the market for a blender.
Many supermarkets sell frozen fruit 'smoothie packs' that you can keep in the freezer. Just replace the mango and pineapple with similar quantities of whichever smoothie mix you choose.
If you want to up the protein content further, add a tablespoon or so of chia seeds when blending. You will just need to make sure that you drink immediately, before they turn the smoothie too thick.
You can watch me make the smoothie here:
Optiwell Smoothie
Ingredients
330

ml

bottle of peach & apricot Optiwell

50

g

spinach

1

small banana

80

g

peeled and chopped fresh mango

100

g

peeled and chopped fresh pineapple
Instructions
Put the spinach and Optiwell into a blender and blend until very smooth (this may take up to 30 seconds).

Add the other ingredients and blend until smooth.

Pour into a glass and serve.
What's your favourite smoothie ingredient? Do you think it's even possible to consume too much feta whilst on holiday?!
Pin the Optiwell Smoothie recipe for later..
Disclosure: This recipe was commissioned by Optiwell. As always, all opinions are truthful and I wouldn't endorse a product I didn't genuinely think was brilliant.
Keep in touch on Facebook ¦
Chit chat on Twitter ¦
Never miss a trick on Bloglovin' ¦
Circle with me on Google+ ¦
Pinning like my life depends on it Pinterest