Over the last few months G&H's nosiness has found it's way into the kitchen. Every time I so much as sneak around the corner for a crafty Lindor ball there's two little people pulling up chairs, climbing up and getting a view of the work surface to find out what's going on.

They want to know what's being cooked and get involved. There's a lot of reaching for hot pans and trying to stir which leaves me in a total panic. Lately, I spend more time flapping over them not injuring themself than making dinner.
But I love it. I love it so much it makes my heart swell. I love that they are taking an interest in the thing that gives me so much pleasure. I love that I can share making something with them. I love seeing them so totally engrossed in the job in hand and thrilled with themselves afterward.

So, to try to herd them away from the hob danger zone, I've been doing some cooking with them that they can get really involved with.
This week we made banana loaf. This is a staple in this house, a super easy family recipe. It was originally from this book Eats for Treats
which is now out of print. My version has been adapted over the years. That was my favourite recipe book when I was first let loose in the kitchen about 20 years ago, good old Jane Asher has lasted the test of time.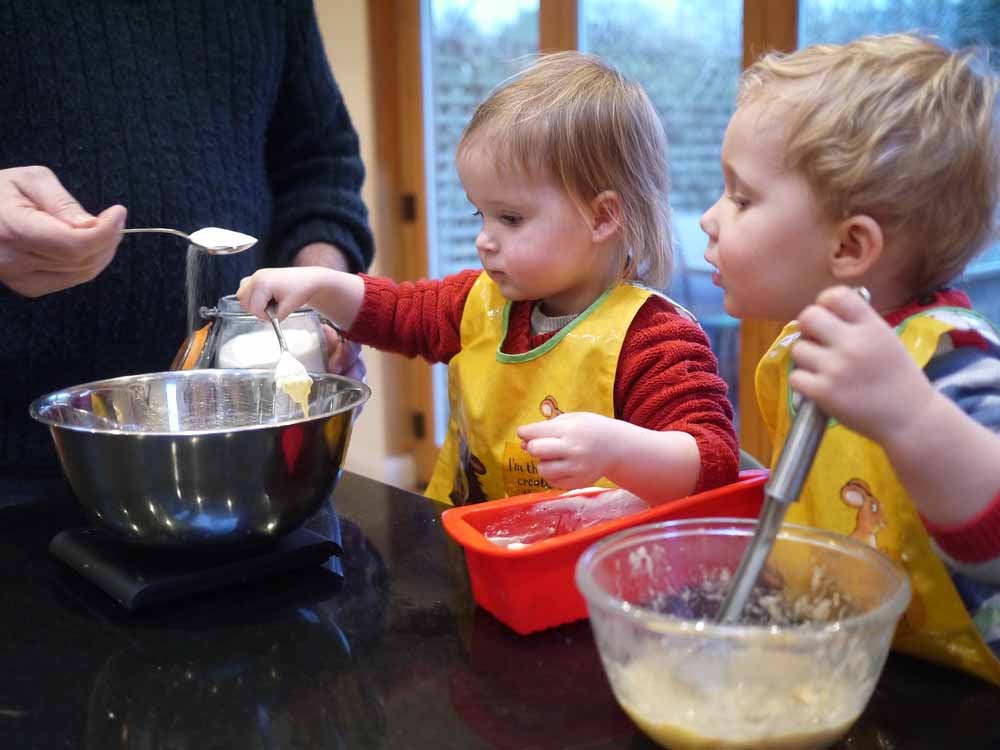 I used a new Silicone Loaf Pan
. I still greased it just to be sure. The loaf popped out well, but I do prefer a normal tin for the neat shape it makes. The loaf seemed to not be quite as sturdy without being baked in a ridgid tin.
Their fab aprons were a Christmas gift from Granny. You can find them here: The Gruffalo Tabard for Children Age 2-4 Years (Yellow)

For this recipe, G&H (who are nearly 2) helped to:
Mash the bananas
Whisk the eggs with a fork
Spoon the flour/sugar into the bowl
Pour the melted butter into the bowl
Stir everything together
Plop everything into the tin
Sprinkle sugar on top
Taste test

Banana Loaf
Makes 1 loaf cake
Butter for greasing the tin
2 Medium free range eggs
75g Butter, melted
100g Caster sugar
225g Plain flour
2 teaspoons Baking powder
1 Orange
1 Lemon
3 Large bananas, very ripe, peeled and mashed
Handful of chocolate chips (if you fancy)
1 Tablespoon of brown sugar
1. Grease the tin with soft butter.
2. Break the eggs into a bowl and whisk.
3. Add the melted butter, sugar, flour, baking powder, zest of the orange and zest of the lemon, mashed bananas and chocolate chips if using.
4. Mix very well.
5. Spoon into the tin, smoothing out with the back of the spoon.
6. Sprinkle with the brown sugar.
7. Bake for 45 mins – 55 mins at 180C.

Do you cook with your little ones? What's your favourite recipe to make together? Does the mess give you palpitations?
Sarah x
PS. That hand on the cake wasn't staged, it appeared from nowhere to snaffle a piece.. Clearly his father's son.