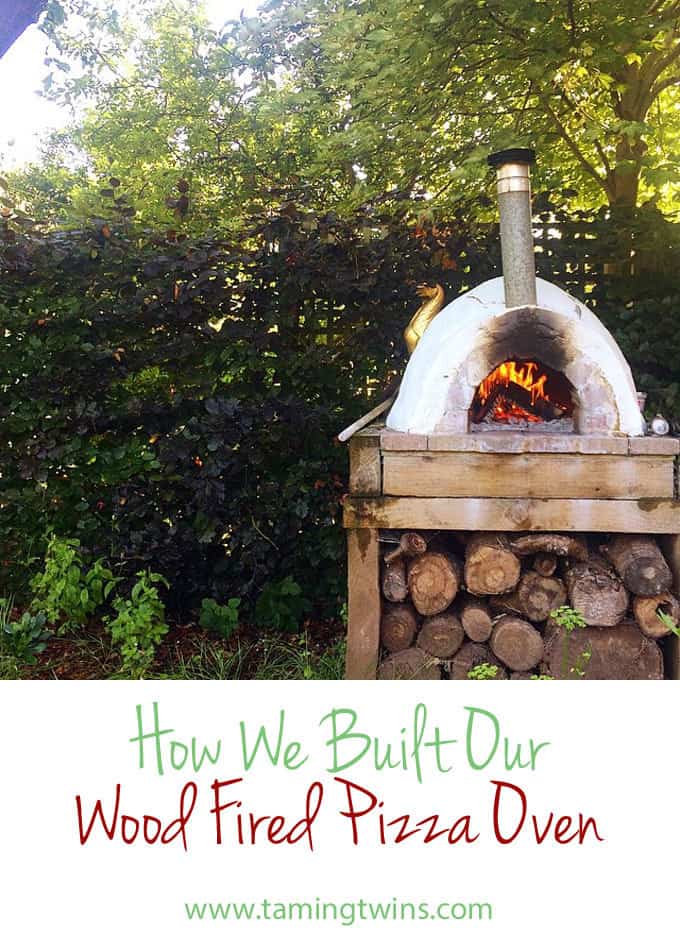 In May 2013, we celebrated having been married for five years. FIVE WHOLE YEARS. Five seemed like a real milestone, and, a milestone with a proper anniversary tradition. None of this paper, one year business. Oh no. Five years of marriage is celebrated with wood.
That kind of sturdy, meaningful tradition requires a gift to convey the gravity of the situation, don't you agree? Something that says, we're through the initial honeymoon, through the testing phase, I've decided to keep you and I am in this for the long haul.
So, I created a soppy but booze fueled gift. A wooden box filled with 3 wines, from places we'd travelled to. To be drunk on our 5th, 10th and 15th anniversaries. He loved it. We drank and toasted and congratulated ourselves on all we'd seen in those five years.

As we drank, I opened my anniversary card. In it, he gave me the thing I'd been waiting for all these years, what every woman dreams of (just me? Oh)… The promise of a wood fired pizza oven in the garden. That was my wood related gift.
Now, truth be told, at this point, although I was jubilant, I was also slightly dubious. I have so much faith in my husband in lots of areas, he's very capable. He makes a better pint of Gin and Tonic than anyone I've ever met, he can work out money stuff quicker than I've said "where the heck is the calculator?" and there's not a sport he wouldn't turn his hand to.
But, when it comes to DIY? There has been a few… 'incidents' over the years. There was that time he tried to change a light fitting and we were without electricity for a week or the construction of the children's toy kitchen, that took 5 hours and involved quite a lot of rude words.
Would we let that stop us? No! I was in charge of planning suggestions and I have to say, we didn't do masses of research. I found this amazing guide by Flossie Teacakes: How to Build Your Own Pizza Oven and we didn't look back.
We made a few adjustments from that guide. Our oven is slightly larger, we used insulating sheets below the oven floor and we added a flue (more on that later). We also used some kind of clay granules from Vitcas to add to the insulation on one of the outer layers.
We kept track of the story on Instagram, starting in June 2013.. (You can see all of the Instagram photos here: #BarnseyPizzaOven)
As luck would have it, exactly where we wanted to put the oven, there was an unused sandpit frame in the ground (sorry kids!). We cleared it out…
… Filled it with concrete and let it 'go off' (that's a technical term apparently meaning 'wait until it's no longer wet and sloppy').
We then planned our wood pieces, this involved us plotting late at night and scribbling on scraps of paper. I found a local place that sold new sleepers (reclaimed ones are pretty but can be a bit warped and also can be treated with dodgy chemicals) and they cut them to size. We filled the back of the car almost to bursting and set about fixing them into position.
As the frame came together, we created an open, sunken area in the middle, we lined this with heatproof membrane, filled it with heatproof bricks and lots of sand. It was then topped with very flat, (heatproof) new paving stones.
After this photo was taken, bless him, Barnsey ended up taking all of these slabs out and adding more sand underneath as he realised it would be better without the tiny gap above the edge of the bricks, to make it level with the top of the wood. Turns out he is actually a DIY perfectionist given half a chance – who knew?
We searched out some reclaimed bricks, from an old outbuilding that had been knocked down, and gradually the igloo took shape appeared over another weekend.
Then.. A big day. The first drying out fire. A real, man build, man make fire, man drink ale moment. I can't even tell you how amazing it was to see that first little fire in that dome. So exciting. I think we may have even toasted a marshmallow or two.
Then we started the outer, insulating layers and she really started to look like something special..
As we lit more drying out fires at this stage, we did find a bit of a problem. The smoke coming back out of the oven was not very pleasant when you were standing close to the oven, which was quite a lot with all of the poking the fire we were doing. It was also discolouring the front of the oven very quickly. We called in reinforcements. Our genius friend Paul the plumber was drafted in with an old boiler flue he had hanging around and then, before we knew it, she was done.
We christened her and from that very first pizza, it was worth every weekend of collecting wood and getting mucky and repositioning bricks. They were, and still are, the best pizzas I've ever tasted.
It's a funny old thing, so many people see photos of the pizza oven and say "OH WOW!" but can I let you in on a secret? It didn't feel stressful, or even that taxing building it. We just followed that brilliant plan, took one step at a time and gradually, it was done.
It's hard to describe what that beautiful igloo of wood and bricks and clay has meant to us. Warm evenings with friends gathered around, eagerly awaiting the next creation, the sound of the crackling timber and the smell. That smell! There is something so special about having built this thing ourselves and then using it to produce really delicious food, perfect for sharing.
We've learned so much about temperature, dough recipes, the best peel to use and when to light the fire. I'll tell you about those another day if you're interested?

In the meantime, if you'd like some pizza recipe inspiration (for cooking inside or out)..
Slow Roast Tomato & Pesto Pizza by BigSpud
Chorizo, Halloumi & Red Onion Pizza by PenneForYourThoughts
Mushroom, Pesto & Asparagus Pizza by Family Friends Food
Broccoli & Asparagus Pizza with Balsamic Glaze by Supper in the Suburbs
or for a cheat's version, how about Quesadilla Pizzas by Amuse Your Bouche?
Keep in touch on Facebook ¦
Chit chat on Twitter ¦
Never miss a trick on Bloglovin' ¦
Circle with me on Google+ ¦
Pinning like my life depends on it Pinterest ¦