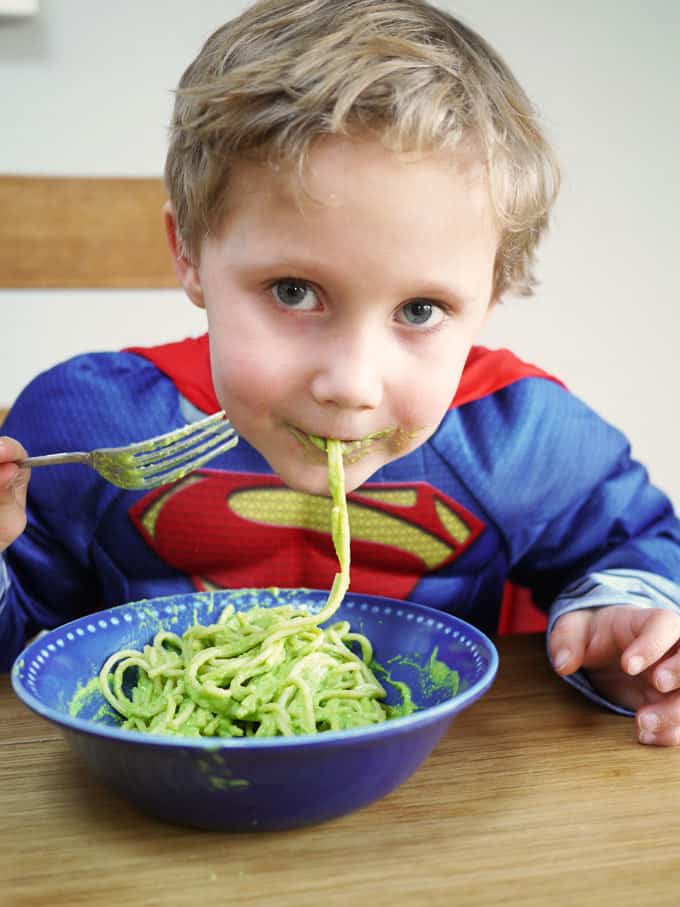 Just to be clear, I cannot actually *guarantee* that eating this bright green hidden vegetable pasta sauce will turn you into a superhero. But, the colour reminds us of the hulk and it means that my children eat a bowl full of veggies so I'm not going to argue with that thank you very much. That's a superpower in itself, right?!
You might remember, we've been working with Organix as part of their #NoJunkJourney campaign to try and think a bit more carefully about what we eat. One of the things I'm trying to focus on is including more of the good stuff, rather than trying to just cut out all sugary things instantly. Hopefully this is a more positive message for kids and by the time they are full of nutritious fruit and veg, there's not much room left for processed food. That's my plan!
Organix kindly sent us a fantastic Riverford Organic veg box to try out and I used it to create this tasty and oh so simple spaghetti for kids. This pasta sauce is a great way of sneaking more vegetables into the diet of your family. For me, making food fun is a definite winner to getting everyone to eat well.

Watch the video here:
Superhero Hidden Veg Spaghetti

Superhero Hidden Veg Spaghetti! I can't guarantee it will turn you into Superman, but the colour reminds us of The Hulk and it gets my kids to eat heaps of hidden veggies, so that's a super power right?!Get the recipe here: https://www.tamingtwins.com/2016/04/07/hidden-vegetable-pasta-sauce/

Posted by Taming Twins on Thursday, 7 April 2016

Can you spot the little hands helping in this video too? I really believe that when kids help to get involved in creating their meals, they will tend to try many more things than they perhaps would have.
So, my top tips for encouraging kids to make healthy food choices:
Get them involved in the cooking.
Fill them up with good stuff before they have a chance to think too much about treats.
Make food fun!
Eat the rainbow, choose a whole variety of the colourful, seasonal product out there to keep things interesting.
Take them shopping with you, let them pick and choose the fruit and veg that they like the look of.
Visit a farm shop where they can see the produce growing, or even pick their own. That's one of our favourite summer activities.
And remember, you can always hide the vegetables like in this hidden vegetable pasta sauce!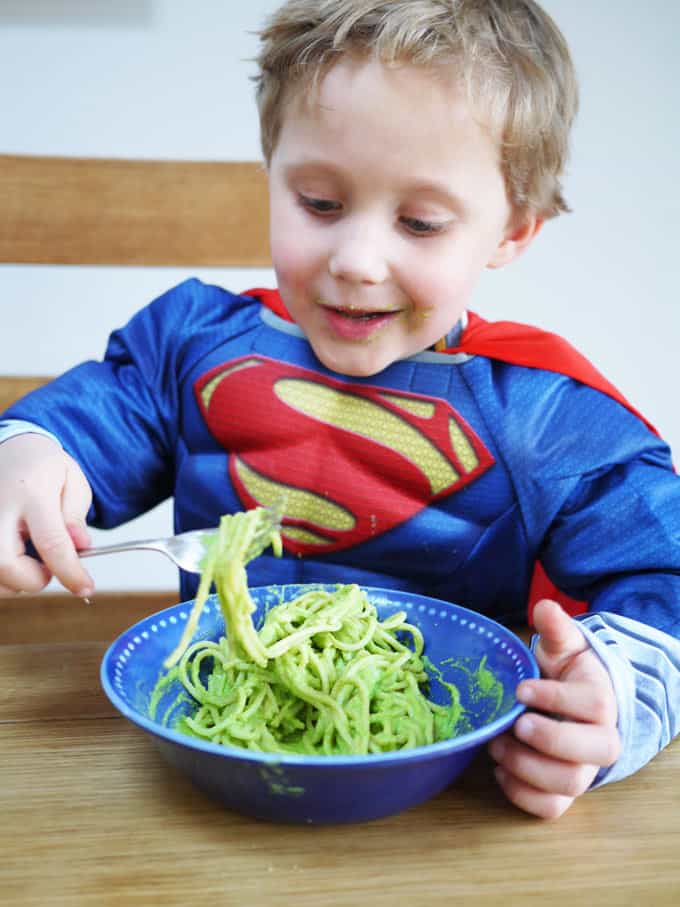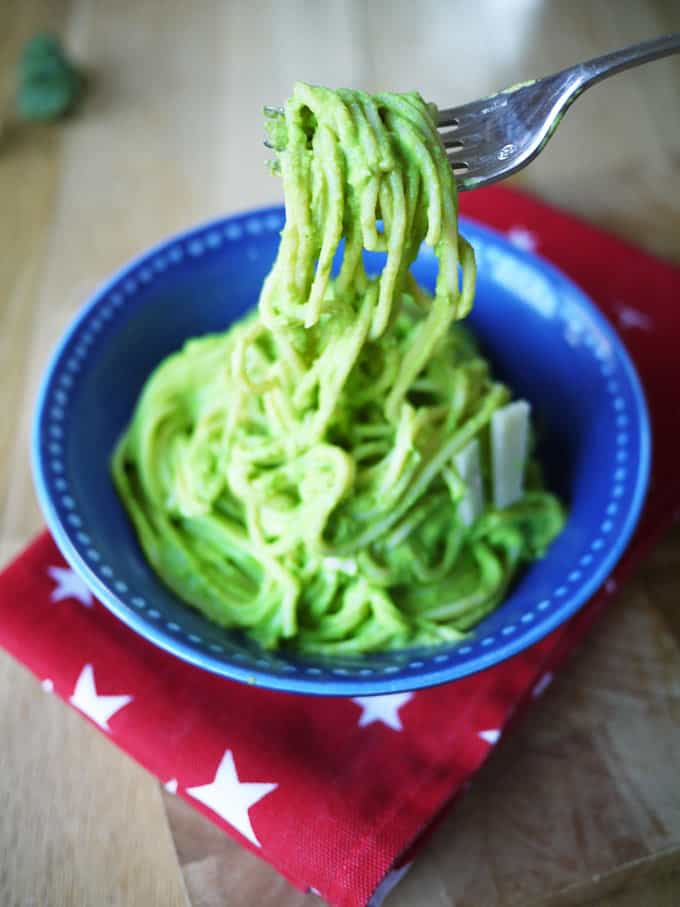 Tips for this recipe:
It can be frozen in ice cube trays for future.
This will make about 6 – 8 kids portions depending on their age and appetite.
You can replace water with milk for a richer sauce.
Serve it straight away (or freeze straight away) as it will start to split if left to stand.
You can use a stick blender or food processor depending on what you have, I use my amazing Froothie blender which gives the smoothest sauce ever (I can't recommend them highly enough!).
I garnished with a slice of cheese cut into a lightning bolt (it was the only superhero garnish I could think of!)
Superhero Hidden Vegetable Pasta Sauce
uperhero Hidden Vegetable Pasta Sauce - This may not turn you into Superman, but it reminds us of The Hulk and packed with hidden veggies, that's a superpower right?! A brilliant kids meal for fussy eaters. (Ssshh.. Secretly packed with cauliflower, broccoli and spinach!)
Ingredients
1

head of Cauliflower

1

head of Broccoli

200

g

Baby leaf spinach

washed

100

g

Medium cheddar cheese

grated

Approx 200ml water
Instructions
Steam or boil the cauliflower and broccoli until just cooked.

Add all of the ingredients to a blender and process until very smooth (you may need to add more water to achieve a sauce consistency).

Serve immediately over cooked spaghetti.
Nutrition Facts
Superhero Hidden Vegetable Pasta Sauce
Amount Per Serving
Calories 170
Calories from Fat 81
% Daily Value*
Fat 9g14%
Cholesterol 26mg9%
Sodium 252mg11%
Potassium 863mg25%
Carbohydrates 13g4%
Protein 12g24%
Vitamin A 5885IU118%
Vitamin C 162.5mg197%
Calcium 307mg31%
Iron 2.8mg16%
* Percent Daily Values are based on a 2000 calorie diet.
I hope this Hidden Vegetable Pasta Sauce recipe is useful in your own #NoJunkJourney. You can find some brilliant recipe ideas for healthy family eating over on the Organix site: Organix Recipes.
How do you encourage your family to make healthy food choices? Any useful tips or tricks that work for you? Where do you sneak veg in when they are least expecting it?!
Pin it for later..
Disclosure: This is a post sponsored by Organix although all opinions are my own and it's a cause I feel strongly about.
Keep in touch on Facebook ¦
Chit chat on Twitter ¦
Never miss a trick on Bloglovin' ¦
Circle with me on Google+ ¦
Pinning like my life depends on it Pinterest