Some simple things in life are totally satisfyingly without any explanation. These include, but are not limited to; popping bubble wrap, cracking a creme bruleé, opening a new jar of Nutella and flipping pancakes.
That moment where it places perfectly in the pan and you catch sight of it's golden, slightly crispy bottom. Oh yes. The secret to a good flip is cook it for longer than you think on the first side, it should be unstuck if you give it a shuffle.

It's Shrove Tuesday this week. Big news in this household. Not least of all because flipping pancakes is so darned fun. It means it's the start of lent, which means that we are on the home run to Easter, which means THE best baking time of the year.
Seriously, whether you're religious or not, it's an event celebrated with chocolate. What more could we ask?
Anyway, I flippin' love flipping (see what I did there?) This will be supper for us on Tuesday, I'm super excited to share pancake making with G&H.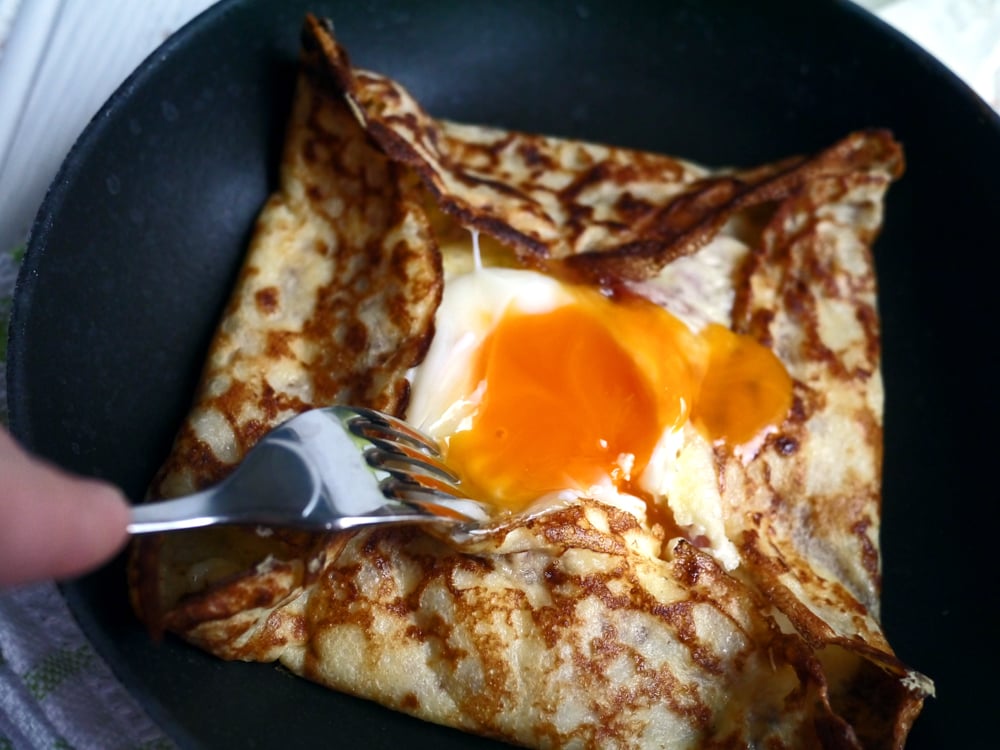 I'm never really sure about the difference between a crêpe and an English pancake. They are both a batter of flour, eggs and milk, whipped up in just a few minutes. They should be thin and light. I use this really simply recipe from BBC Good Food: Perfect Pancakes.
This recipe has everything a good meal should have, carbs, cheese, ham and rich, velvety sauce of the egg yolk. Try this and tell me it's not the best pancake meal you've ever had.

Ham, Egg and Cheese Crêpes
Ingredients
Pancake/crepe
A couple of slices of ham
A handful of mature cheddar
A free range egg
Instructions
Cook your pancakes as per the recipe.
Flippin' flip it!
When the underside is almost done, put the ham on top, then the cheese.
Fold in each side to make a square.
Break your egg into the space left.
Squish the sides down with your spatula to seal as the cheese melts.
Cook for 3 or 4 minutes until the egg is turning white.
Pop under the grill for a further 2 or 3 minutes until the yolk is just starting to cook, or however you like it. (Although, if you like it any way other than runny you're way crazy.)
What will you be eating on Shrove Tuesday? Are you giving up anything for lent? What's THE best pancake filling ever..?
Sarah x
Wanna be friends?
Keep in touch on Facebook ¦
Chit chat on Twitter ¦
Never miss a trick on Bloglovin' ¦
Circle with me on Google+ ¦
Pinning like my life depends on it Pinterest ¦