About five years ago, I was diagnosed with various immunology issues. Aside from the treatment I was having, I really wanted to do whatever I could to help the problem myself. I went to see an amazing nutritionist who recommended I try excluding gluten (and sugar and dairy) from my diet.
So, for over six months I was gluten free, sugar free and dairy free. It was a huge learning curve for a foodie like me and I really wish I'd been blogging then. I wish I'd documented my adventures in food at the time because, boy, they really were adventures. I had a lot to learn.
Later on, when I did, amazingly get pregnant through the fertility immunology treatment, I did introduce sugar and dairy back in. However, I stuck to the gluten free diet for the first 20 weeks of my pregnancy, really believing this had perhaps helped.
I learned various replacements and tricks to fool me into not missing gluten, but the one thing it was very difficult not to miss when I was pregnant was bread. Genius bread was my saving grace.

Genius sent me some of their new products to try this week and I was really curious to see if their offering had changed in the last five years. I invited my friend Jody (who follows a gluten free diet) over for morning coffee and toast (with homemade jam!)
Genius was founded by professionally trained chef, Lucinda Bruce-Gardyne, after failing to find good quality gluten-free and wheat-free bread suitable for her gluten intolerant son. It is now the number one gluten-free bakery brand in Britain.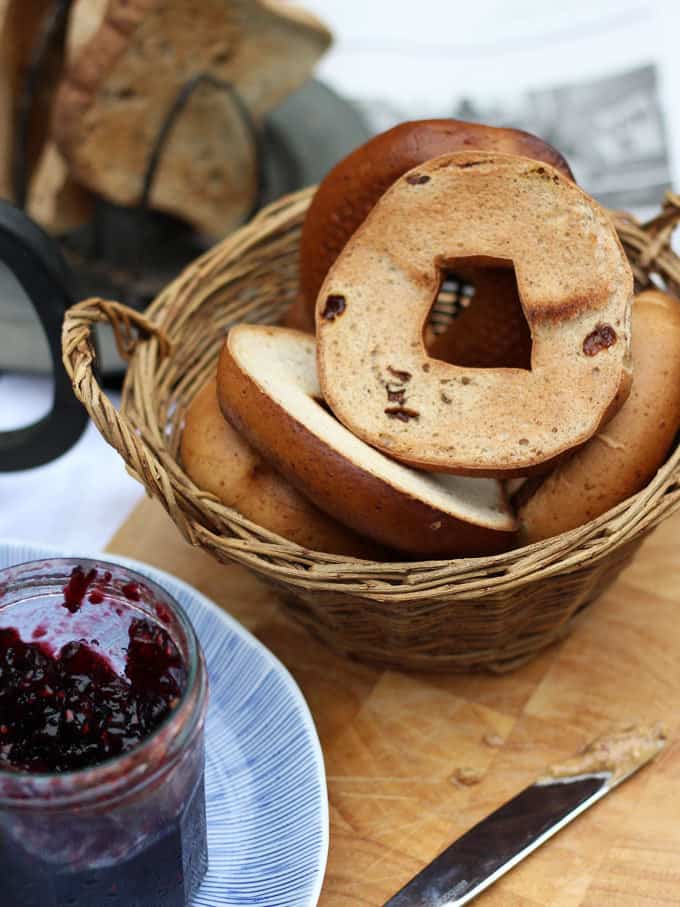 We tried the new Genius Gluten Free Seeded Brown Farmhouse Loaf and the new Genius Gluten Free Bagels.
Seeded Brown Farmhouse Loaf
Uses a tasty, wholesome blend of linseed, millet and golden flaxseed
Traditional, hearty, rustic
Use to make a sandwich, or serve toasted with butter or jam
High in fibre
Low in saturated fat
No artificial preservatives
Source of Omega 3
Available in Tesco, RRP: £2.80
The loaf slices were a good size, not tiny, see through or incredibly dense like some bread substitutes can be. It toasted very well and in fact I preferred it toasted, as I felt it improved the texture further. It has a nutty taste from the seeds, which added a good bite. I'd happily eat a toasted sandwich with this loaf, even not being on a gluten free diet.
Plain and Cinnamon & Raisin Bagels
'New York style' bagels
Made using the traditional method to give an authentic chewy outside with a soft dense middle
Perfect for layering up with your favourite toppings, for example smoked salmon and cream cheese
Best served toasted or grilled
Available in Asda, RRP: £2.00
We tried both the Plain and the Cinnamon & Raisin bagels. They had a very dark outside (or perhaps we had a well done batch?!) which I was  surprised by, but didn't seem to effect the taste. As always with bagels, I preferred them toasted. They are sweeter than normal bagels, so the Cinnamon & Raisin seemed to work particularly well. I would certainly choose these to serve as part of a breakfast spread for a gluten free guest again.
My only disappointment with the whole range is the huge ingredient list. Whilst there is no artificial preservatives it seems a shame that there's a lot of unpronounceables in there. However, I imagine that the alchemy it takes to produce such a good gluten free bread is no mean feat and needs all the science it can get.
Disclosure: This post was commissioned by Genius. As always, all opinions are truthful.
Keep in touch on Facebook ¦
Chit chat on Twitter ¦
Never miss a trick on Bloglovin' ¦
Circle with me on Google+ ¦
Pinning like my life depends on it Pinterest