This Funfetti Bundt Cake topped with White Chocolate Ganache (and even more sprinkles) is crunchy on the outside and has a delicious texture when cut. It's oh so pretty to look at but simply to make.

Sometimes, a recipe just, kind of happens. Often the recipes you read from me here are things I've been making, around and about, somehow for years and years. It's only when I decide to actually post them that I try and pin down how I make them. I wonder how I measure 'add a big glug until it looks about right' or 'chop until it's almost squishy but not quite'. These are the thoughts that go through the mind of a fly-by-the-seat-of-my-pants intuitive cook.
But baking, baking's a bit different. Baking doesn't tend to 'just happen'. Baking is a science and a balance and not something for messing around with. Most of my cake recipes are some kind of variation on a basic sponge mixture (equal weights) but for a while, I've been trying to come up with a different kind of cake. Something a bit more sturdy, that will last well and stand on it's own without too much decoration.
As it wasn't going to have too much icing, it would need to be a sweeter sponge and a decorative tin would be called for to add that certain oomph.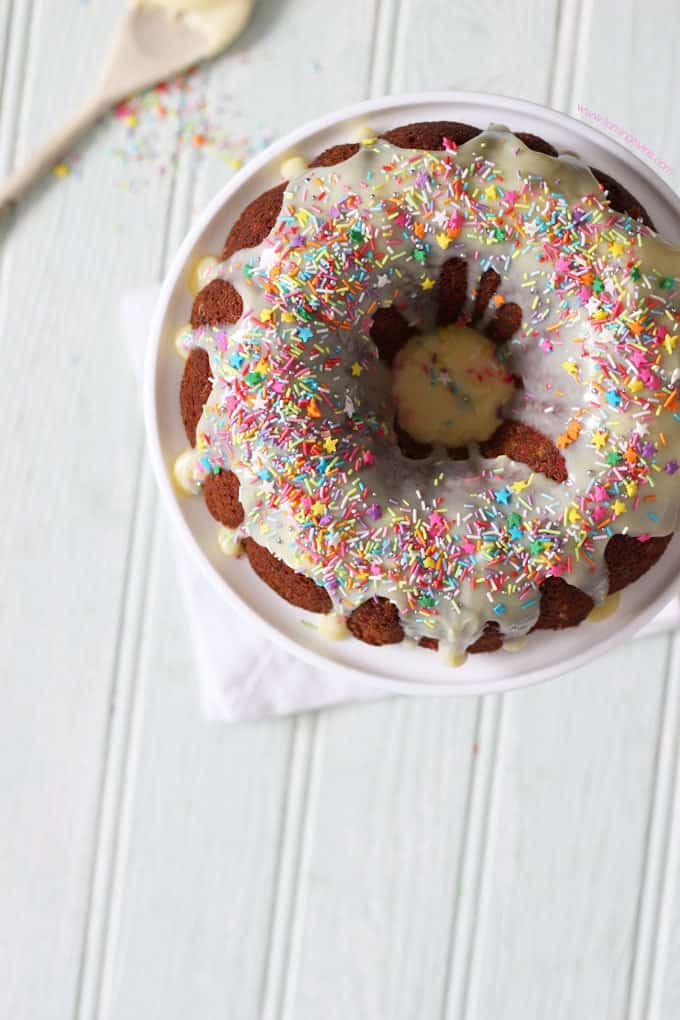 And so, the story of this cake. This cake my friends, did not 'just happen'. I've made this cake 7 times in the last few weeks. My husband says that if he sees another bundt cake he might throw it out of the window.
It's been too greasy or too browned or the ganache was too runny and a few other problems in between. Honestly? I'm still not quite there but I thought I'd share this with you as a bit of a work in progress. This recipe is good and I'd happily make one each week, but it's not quite perfect. It's golden, crumbly, with the crunchy fun of the sprinkles inside and on top. The ganache makes you want to dip in chunks of fallen cake and mop it up with your fingers. But something, is just not quite perfect, just not quite what I was actually trying to make.
Anyway, I'm embracing the Japanese concept of wabi-sabi (the beauty and acceptance of imperfection, isn't that a wonderful idea to adopt in life in general?) and so, here is my Funfetti Bundt Cake with White Chocolate Ganache. I hope you enjoy it as much as I have enjoyed testing them.
Tips for making this Funfetti Bundt Cake: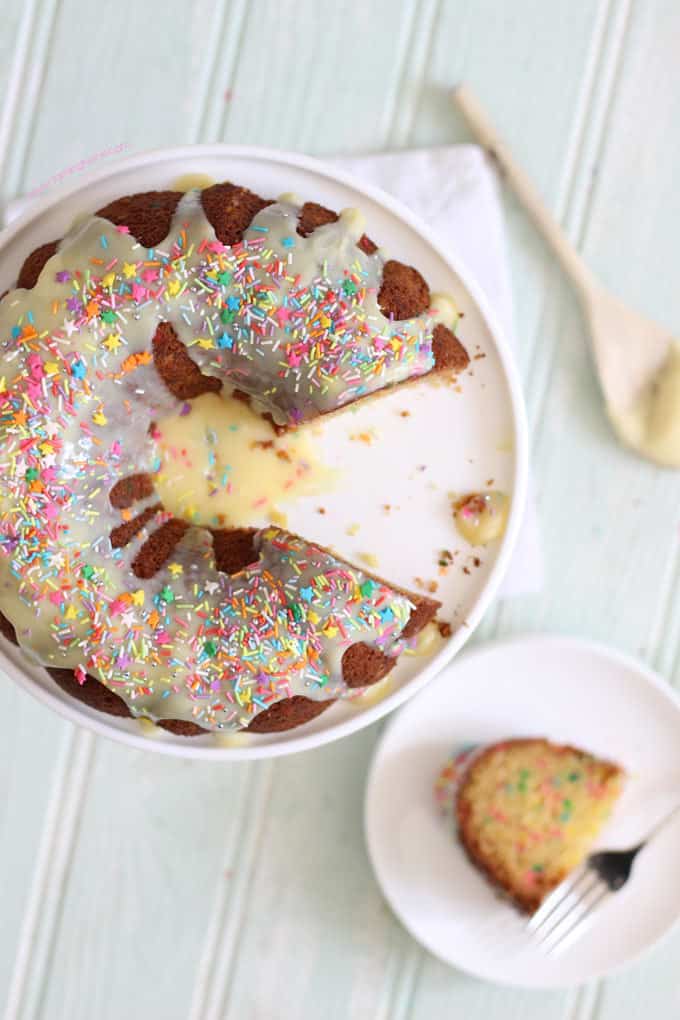 Funfetti Bundt Cake Recipe
A great fun bundt cake for any family occassion
Total Time
1
hour
15
minutes
Ingredients
150

g

Unsalted butter

plus extra for greasing

350

g

Caster sugar

4

Medium

free range eggs

300

g

Plain flour

plus extra for dusting

1

tsp

Bicarbonate of Soda

150

g

Natural yoghurt

1

tsp

Vanilla extract

50

g

Sprinkles
To decorate:
100

ml

Double cream

200

g

White chocolate

50

g

Sprinkles
Instructions
Pre-heat the oven to 160C.

Beat the butter and sugar until pale, light and fluffy.

Beat in each egg, one at a time, until fully combined.

Stir in the flour and bicarbonate of soda until fully combined, then add the yoghurt, vanilla and sprinkles and mix until totally combined.

Grease your bundt tin very thoroughly and then cover the inside with a dusting of flour, tapping out the excess.

Fill the bundt tin with your batter, evenly spreading it.

Bake for 50 - 60 minutes.

Meanwhile, make the ganache. Chop the chocolate very finely and heat the cream in a small saucepan until almost bubbling.

remove from the heat and add the white chocolate. Stir until the chocolate is melted and you have a thick ganache. Put to one side (at room temperature).

The cake is ready when a skewer comes out clean. (Depending on the shape of the bundt tin you are using, it could need a little more or a little less time. It's worth checking at 45 minutes and if it's not cooked at 60, obviously leave it in until it is.)

Allow to cool in the tin for 15 minutes and then tap firmly on the worksurface and turn out.

When the cake is totally cold, top with the ganache and extra sprinkles.
Nutrition Facts
Funfetti Bundt Cake Recipe
Amount Per Serving
Calories 457
Calories from Fat 171
% Daily Value*
Fat 19g29%
Cholesterol 43mg14%
Sodium 130mg6%
Potassium 103mg3%
Carbohydrates 67g22%
Protein 4g8%
Vitamin A 450IU9%
Vitamin C 0.1mg0%
Calcium 60mg6%
Iron 1.2mg7%
* Percent Daily Values are based on a 2000 calorie diet.
What's your wabi-sabi moment in life, a perfectly imperfect work in progress?
Pin the Funfetti Bundt Cake with White Chocolate Ganache recipe for later..
Keep in touch on Facebook ¦
Chit chat on Twitter ¦
Never miss a trick on Bloglovin' ¦
Circle with me on Google+ ¦
Pinning like my life depends on it Pinterest