In life, people come and go. Life changes and friendships sometimes drift away. However, there's the occasional few that you know are in it with you for the long haul. Even if you don't see each other every week, or chat on the phone all the time, when you're together it's like you've never been apart. Do you have those?
I worked for Mark when I was 18 and he and Louise became like adopted, super cool, parents to me. They are the people I turn to for advice, mentoring, friendship and lots of laughs. Mark gave a reading at our wedding, Louise has listened and advised on my many life dilemmas; they've been there through my good times and bad. I adore them both and was so excited to go and visit them for the weekend.
We arrived just in time for lunch, which is always something special in this household..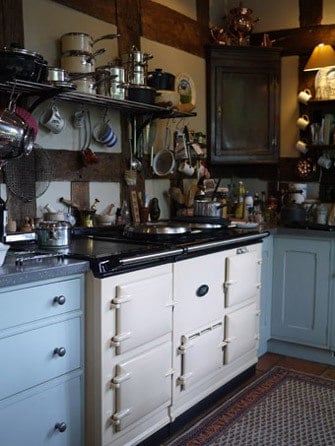 How gorgeous is that table? We spent lunchtime gossiping whilst polishing off Louise's amazing fillet of beef. My husband and Mark giggled like school boys about drinking too much red wine and plotting an afternoon nap.
After lunch, on a mission to keep them both awake, we went to say hello to the hounds and then explore the garden. We played hide and seek behind the willow trees, picked raspberries and ran around with the four Labradors.

This is the sort of garden you could get lost in for hours. Every time you turn a corner there's something beautiful or interesting or tasty to find. Orchard? Check. Woodland? Check. Chickens? Check. There's so many hours of love and care in this garden and it shows in every little interesting detail that Mark and Louise have sneaked in to surprise you.
Later, after G&H were tucked up in bed, we settled in for an evening of catching up and too much wine (hence no photos, BAD blogger). I laughed so much my face ached and felt so grateful to have such lovely people in my life (sorry, slushy but true).
On Sunday there was time for breakfast together before saying goodbye to our dear friends and heading home. I can confirm, that breakfast does help a stonking hangover and also, it's even better when it's cooked by someone else and looks like this..

Before we left, G said fond farewells to his namesake the Labrador, who he had become very attached to..

Thanks for being the most amazing hosts as always my lovely friends. We love you! See you soon.
Sarah x
Let's be friends..
Keep in touch on Facebook ¦
Chit chat on Twitter ¦
Never miss a trick on Bloglovin' ¦
Circle with me on Google+ ¦
Pinning like my life depends on it Pinterest ¦