Four and a half years ago I arrived in a dusty function room one January evening ready to nail this parenting thing. We learned how to relax during labour (HAHA!), we learned that he shouldn't hold a baby like a rugby ball and we learned how breasts are like oranges (natch).
Unsurprisingly, we forgot the entire contents of the course the moment my first contraction hit a couple of months later. But something else happened that day. A bit of magic. I met five girls who came to mean so much more than I ever expected in that dusty hall. I think I'd have been a different Mum to the one I am without them to call on. Without their support and unwavering friendship.
Mumhood can be lonely and isolating and confusing, but tea and cake with them steered me through so often. And a couple of weeks ago, the five of us NCT alumni girls (one man down as she's just made another gorgeous baby) managed a long awaited trip away.
(Apologies, this post is picture heavy, I couldn't resist.)
It normally takes three spreadsheets, a month of planning and about two hundred emails to arrange for us to get together for coffee, such is busy life with families and work and six diaries to contend with. But earlier this year, I was invited to stay at The Casa and I thought I'd see if perhaps we could finally manage a trip together. Those tiny babies that brought us together are about to go off to school (sob), that seemed like a suitably momentous moment in our mothering careers to take some time out.
I emailed them all "Girls, fancy coming to Portugal? Here are the dates, bargain flights, just two nights…" An hour later and everyone had booked. It. Was. A. Miracle.
So, last month, we found ourselves together at last, in a magical little corner of Portugal sans kids.
Watch the video here:
The Casa, Eastern Algarve, Portugal
The Casa, is tucked away up a dusty track, half an hour from Faro. Where most holidaymakers turn left out of the airport to Albufeira and the like, this little corner is a world away in the opposite direction, just off the road toward Spain.
As we rounded the corner and the house appeared, excitement was running high. It didn't disappoint. This is something very special.
Full to the brim with personality, artfully placed in every corner is something interesting and beautiful to look at (and Instagram. The most Instagram-able house in the world award belongs right here.) Flea market finds and local treasures sit perfectly with hip font prints and furniture made with pallets, that look like they've jumped right off the pages of Pinterest.
The house has three air conditioned bedrooms, a stunning open plan kitchen dining area and an airy living room (complete with impressive log burner for when the – positively balmy by our standards – Portuguese winter arrives). There's also heaps of seating areas outside on the well thought out deck area, a huge utility room and an enormous roof terrace.
Out and About in The Eastern Algarve
We settled in to The Casa, without a blink, as if we planned to stay for far longer than our 48 hours. That evening, we made use of the amazingly well researched information pack on hand and went to explore the cobbled streets of Tavira. A pretty little town, either side of a Roman bridge, with shops full of knickknacks and alleyways bustling with diners.
Hanging on the wall at The Casa, there are various clipboards, each with a stack of printed info sheets about one of the local areas. Super handy so you can pull off a throwaway sheet and take it with you on your adventures, knowing where to go, what to see and of course, what to eat.
More tired than we'd realised (or perhaps it was the jugs of delicious white sangria?!) we were delivered safely back by the regular and charming Casa taxi driver, stumbled into bed, to recover for the next day of poolside relaxation.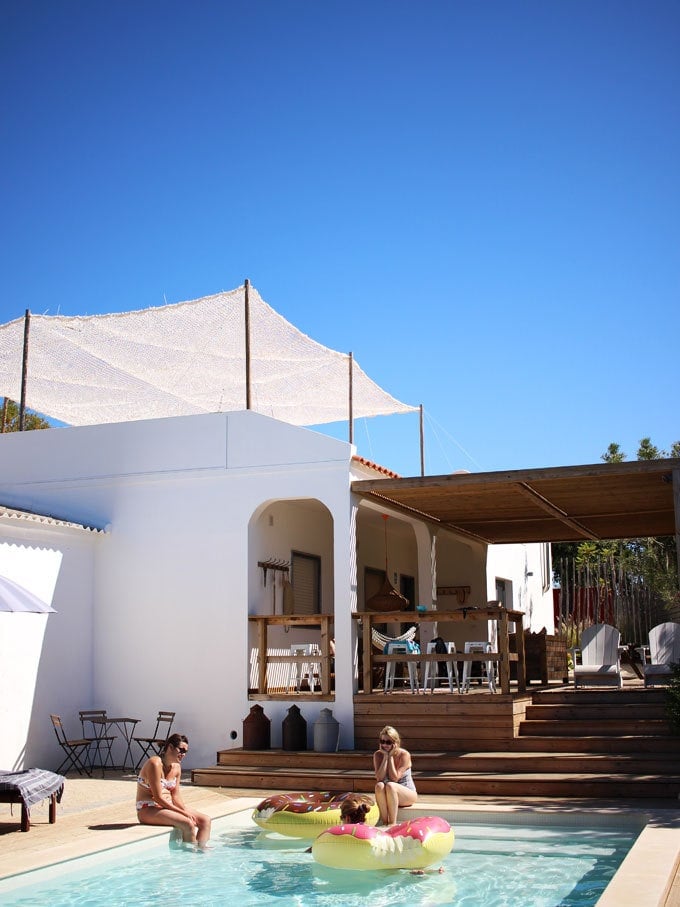 After a lazy breakfast on the dappled shade of the deck, listening to cicadas sing, we got down to the serious business of resting. Bobbing in the pool and lazing on the loungers, the day was filled with laughter and the easy chit chat that comes so naturally with these girls, but is almost impossible when we're together at home, juggling ten children between us.
That morning, we had arranged a visit from a masseuse friend of the owners, the wonderful Justine. It was one of the most perfect moments. Totally relaxed, friends laughing outside, sun blazing, gentle strains of mellow Ibiza tunes in the background (playlists lovingly curated for Casa visitors and left for you to enjoy during your stay) and a blissful massage each in the welcome shade of the house. Absolute bliss.
Fuzeta, Eastern Algarve
Later, we decided to hop the short drive to Fuzeta, the nearest town. We took a Casa recommendation and ate a lunch of fat pink prawns with garlic butter dripping to our elbows, just a few steps from the sea. Afterwards we wandered down to the town beach and dipped our toes into the shallow waters of the softest sands. Portuguese families were lounging and playing and paddling, and a group of local school children seemed to appear for a swimming lesson. Local life was bubbling on around us as we stared quietly at this stretch of golden sand.
This area is home to a number of sand islands, hugging the coast, these "Ilhas" are long unspoiled sand dune beaches, just a short ferry ride away. We ran out of time to visit in our 48 hours (too much time spent on the prawns) but we were already planning a return adventure to explore them.
Olhão, Eastern Algarve
Our second and final night was spent in nearby Olhão, we started with drinks overlooking the harbour, in a bar behind the fish market and then to dinner at Tasca O Galo. We had a table (booked by our amazing Casa host for us) in the alleyway, under bunting and flickering candles.
Simple and utterly delicious food, in magical surroundings, we laughed until we cried, we kissed the owner our thanks and drank port and all got a bit over emotional about how much this trip had meant to us.
The next day we made the most of The Casa until the last possible moment, eating watermelon by the pool whilst that blazing sunshine warmed our revived Mumma souls for a last hour or two. We talked about how torn we were, wanting to see our little loves, but how we'd happily spend another quiet week (or two) here together whilst life muddled on at home without us.
This trip has cemented for me how important female friendships are to my sanity. Yes we have lots of friends we spend time together with as a couple, but there is something so utterly special about my girl pals. Remembering who I am now, and the people that helped me to get here. Remembering that I'm most importantly Mum but also much more, and that's okay to enjoy, no Mum guilt required.
We waved goodbye to The Casa, revived and restored, with one last white sangria toast to the wonder that is NCT, that taught us bugger all, but brought us together. Thank you beautiful Eastern Algarve, same time next year?
Find more about The Casa here: http://thecasa.pt/
For availability, like the Facebook page here: The Casa, Portugal
To enquire about booking, get in touch here: Email Nigel or Fiona about The Casa
Disclosure: The Casa is owned by my brother in law and sister in law (one of the most brilliant and super creative couples I know!) and our stay was provided free of charge. I wanted to write about it as we all genuinely loved it and as always, I wouldn't endorse a product I didn't truthfully think was excellent.