Dudmaston Estate, Bridgnorth
One of my parenting skills, honed over the last 3 years, is finding places to go where I can safely take two toddlers whilst on my own. It's much easier now of course, no need for baby changing, no worrying about doors wide enough for a double buggy and no need for intravenous coffee to get me through the day (well, hardly ever).
I feel like this summer, we're into a new phase of places that are absolutely perfect for my tiny two. Yes my friends. I've reached that age. We are National Trust lovers.

I don't know why I assumed that the National Trust was just for older people to quietly admire works of art in grand houses. It turns out, it's so much more than that, and oh how I adore it.
It feels like I've discovered a new world of places we can go and wander and see amazing sights and spot bugs and beasties and flowers. Then spread out for a picnic, followed by tea and (homemade!) cake from a quaint café. There's so much space that there's room for them to run without me losing them in a crowd of little people. Not to mention the welcoming, cheery staff and the super clean facilities.

This excitement has been sparked by a visit to Dudmaston Estate (that's where we are in these photos). It was a blue sky day and we were meeting some friends who love muddy knees and twigs in their hair as much as we do. These 3 toddlers make quite a team of adventurers. Our walk around the beautiful Dudmaston lake was the perfect uncharted territory for our explorers to navigate.
There was treasure and boats and pirates and a spaceship (or perhaps it was a fallen log). When we wearily returned from our voyage, there were ice lollies and tea for the grown-ups to celebrate what an excellent job we had done.

For me, these are some of the best childhood moments I can give my children. Carefree wandering, without being told to sit still or eat their peas. Being able to roam and wander and feel like they are king of the castle (or the lake in this case).
National Trust, we can't wait to see more of you this summer.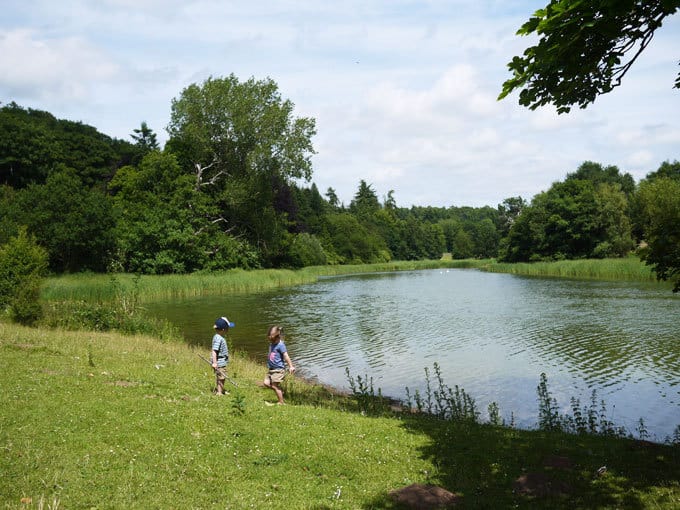 Where's your favourite place to wander with your little ones? Any National Trust tips for me?
Keep in touch on Facebook ¦
Chit chat on Twitter ¦
Never miss a trick on Bloglovin' ¦
Circle with me on Google+ ¦
Pinning like my life depends on it Pinterest ¦