This post may contain affiliate links.
These deliciously gooey Cadbury's Creme Egg Brownies are the perfect Easter baking treat. So quick and easy to make, you can make these with the kids or impress for a party or gift.
Inspired by Nigella's classic brownie recipe, this is your go-to chocolate traybake… How will you eat yours?!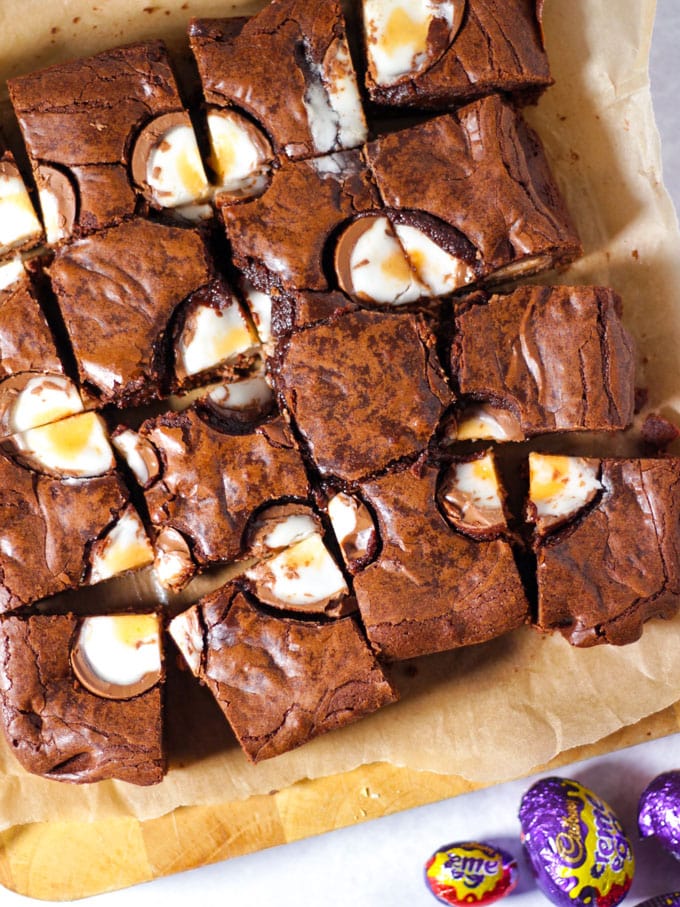 It's no secret that I'm a brownie fan (who isn't?!) They are so easy to make, quick and perfect for a birthday cake alternative or to give as a present.
I couldn't quite believe that I hadn't attempted a Creme Egg version before. (Those who know me well already know I have quite a large repertoire of Creme Egg-related desserts.)
I made a Creme Egg Cheesecake back in 2015 that actually broke the internet (this is a heartwarming tale about how the internet can be a really good place!)
From then on, my love of Creme Eggs has been all enduring, and all things chocolatey to be honest. This ties in nicely with Easter indulgence, which is why you'll find many sweet treats with this celebration in mind here (see below for other recipes).
You can make them as a stand alone treat or as a pudding to a full Easter meal.
---
Why you'll love this recipe
⭐️ Total chocolatey, heavenly indulgence
⭐️ Easy baking for impressive results
⭐️ Perfect for gifts or guests
---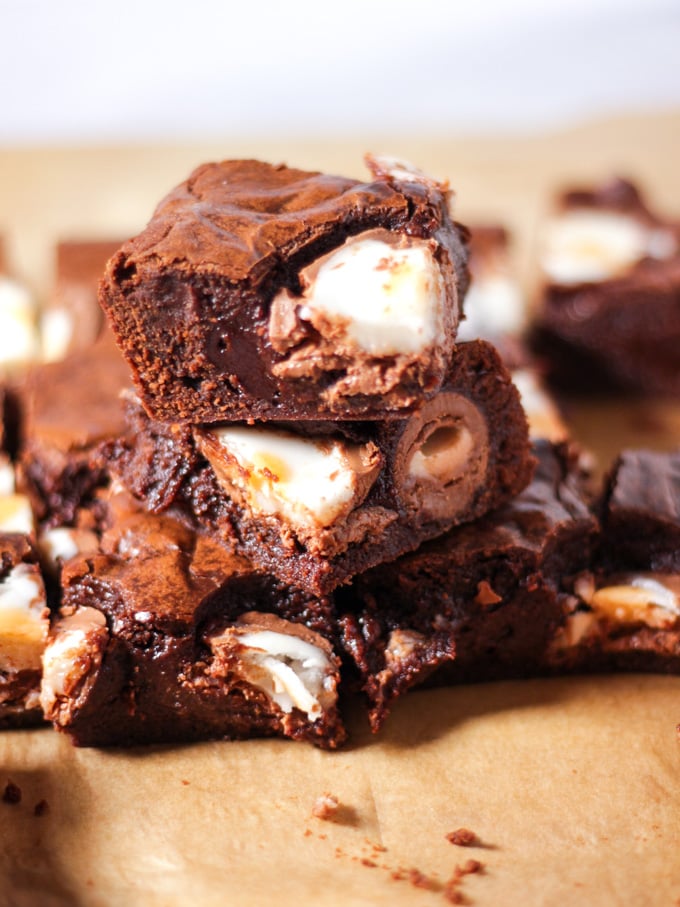 Try these brownies next…
---
Other Easter recipes
Creme Egg Brownie Ingredients
Dark chocolate – I use 70%
Milk chocolate
Unsalted butter
Soft light brown sugar
Eggs – I use large free range
Plain flour
Mini Cadbury Creme Eggs – x2 bags
Cadbury Creme Eggs – normal size
---
How to make it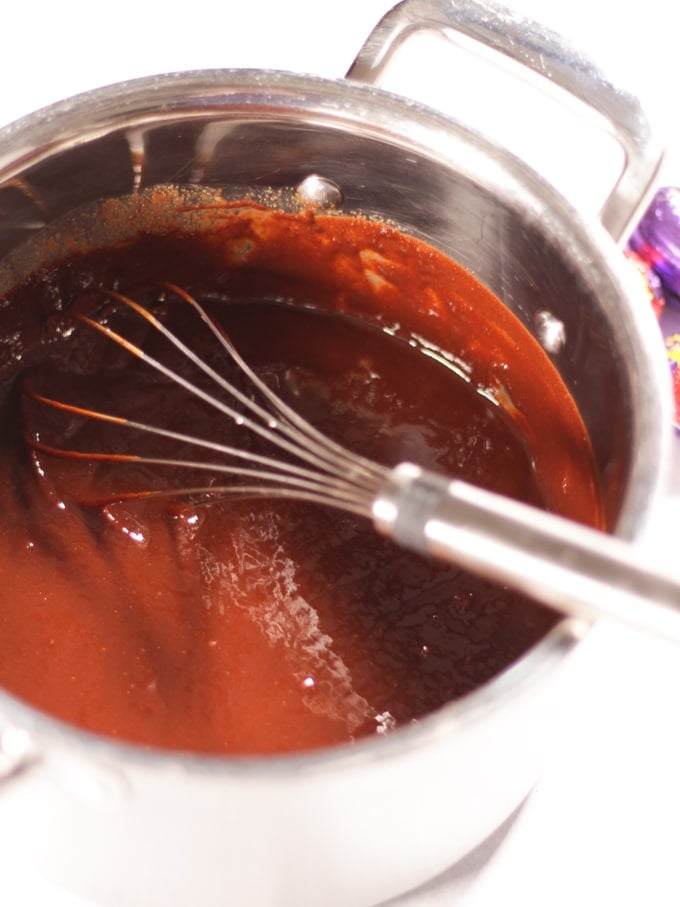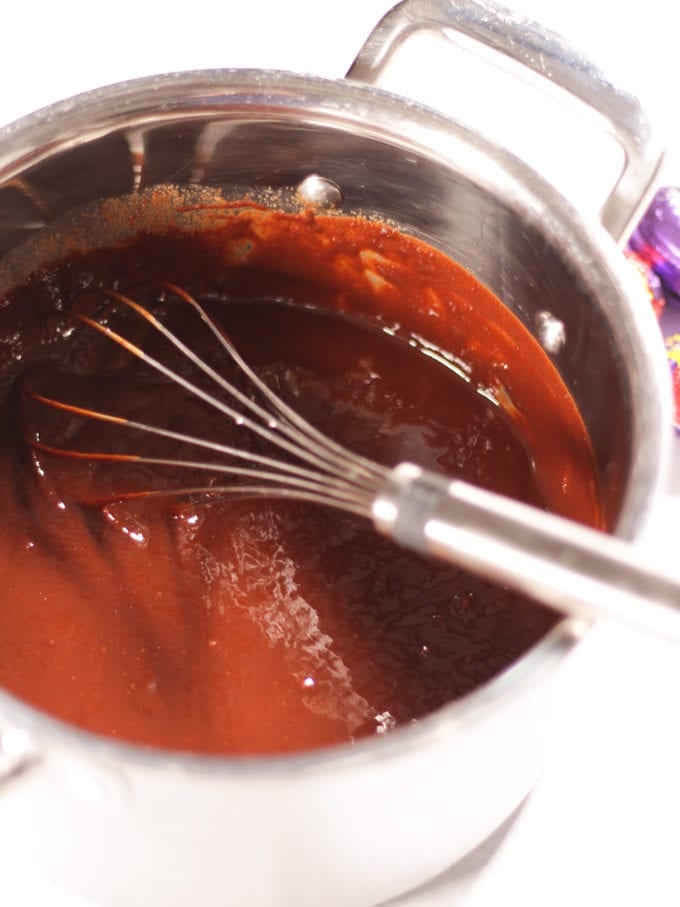 1. Carefully melt your chocolate, butter and sugar together in a pan. Remove from the heat and beat in the eggs, one by one. Next, fold in the flour.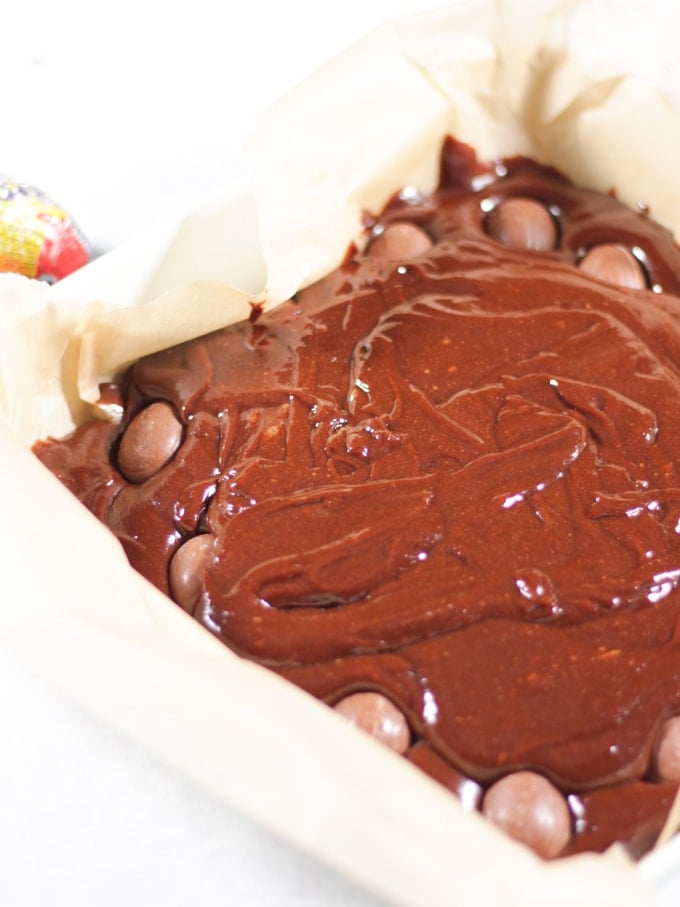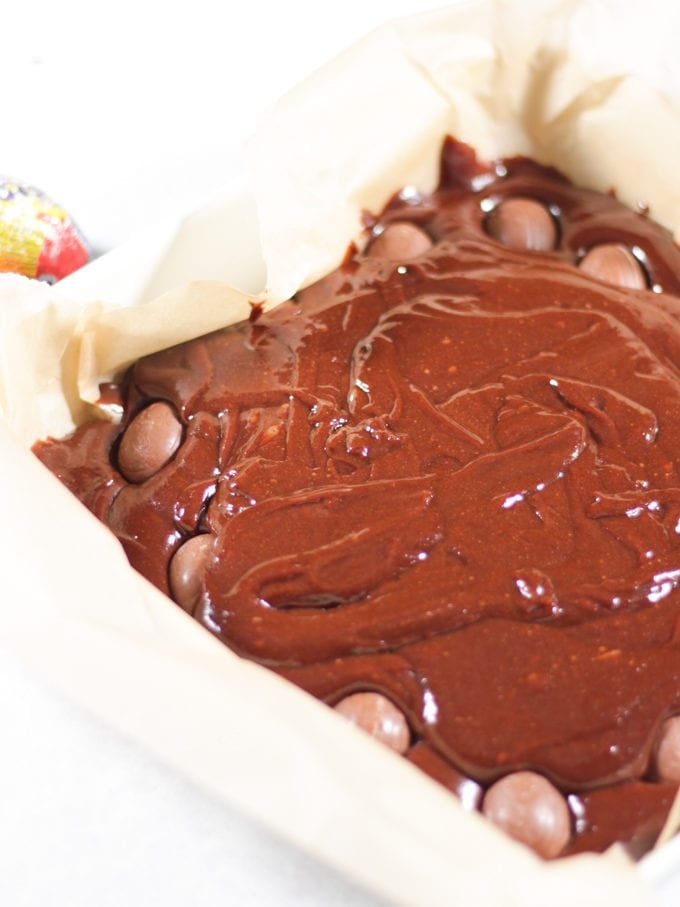 2. Pour half of the mixture into a lined baking tray. Spread whole mini Creme Eggs evenly into the batter, then pour the rest of it on top. Add more Creme Eggs to the top and bake for 30 minutes at 180C. Let them cool fully before cutting.
Hint: Be careful not to overcook the brownies so they remain nice and gooey!
---
Storing the brownies
If you keep the Creme Egg Brownies in an airtight tin they will stay fresh for 5 days. There is no need to refrigerate them.
Can you freeze chocolate brownies? The short answer is – yes! After cutting them into portions, when they are completely cool, wrap in baking paper and freeze for up to 3 months.
Defrost at room temperature for a treat whenever you fancy.
Top tips
Don't overcook!
One of the key elements to brownies is not over cooking them. This is what gives them the gooey brownie texture (different to regular chocolate cake). Cook until just set.
Let them cool
Be sure to resist and let your brownies cool down fully before cutting. They will fall into a mess if you cut them before they are cold.
Distribute the Creme Eggs evenly
Take care to ensure that the Creme Eggs are placed so that each piece of finished brownie will have one in it.
To stop the Creme Eggs melting
To be extra sure that the Creme Eggs don't melt when you are baking the brownies, pop them in the fridge or freezer for an hour (or more or less depending on how much time you have!) before using. This will stop them collapsing during the baking process.
If you're making a batch
If you want to make a few batches of these brownies then I would recommend using disposable foil baking trays as they are the perfect size, save on washing up and mean these are so easy to transport or give as gifts. I like these disposable foil trays from Amazon.
FAQ
How do you know when the brownies are cooked?
The trick is to bring the chocolate brownies out of the oven just before they are cooked through, when they still have a bit of a 'wobble'. Then, leave them to go cold and firm before you cut them. Voila – fudgy brownies at your service!
What are chocolate brownies made of?
This recipe uses really simple ingredients that you'll hopefully have at home.

Unsalted butter (please, always use butter not margarine, there's no comparison) and good quality chocolate. I love Callebaut chocolate for cooking. It's so easy to use and gives the best results. If you buy in bulk from Amazon (1kg) it also works out about the same price as regular chocolate – win!

While we're on the subject, I buy this parchment paper in bulk too for my baking for the same reason.

Of course, these Creme Egg Brownies are stuffed with Cadburys Creme Eggs too, with some on top for good measure.
What's the best baking tin to use for brownies?
I use a baking tin like this one. Sometimes I split this mixture between 2 and reduce the cooking time for thinner brownies, but when putting Creme Eggs in I think it works best as a deep brownie.
What can I serve with these Creme Egg Brownies?
On their own is fine or you can serve these brownies for dessert with vanilla ice cream. Or you can package them up for an Easter gift.
Can I use salted butter if the recipe says unsalted?
It's usually best to use unsalted in baking but it's fine to use salted if that's all you have.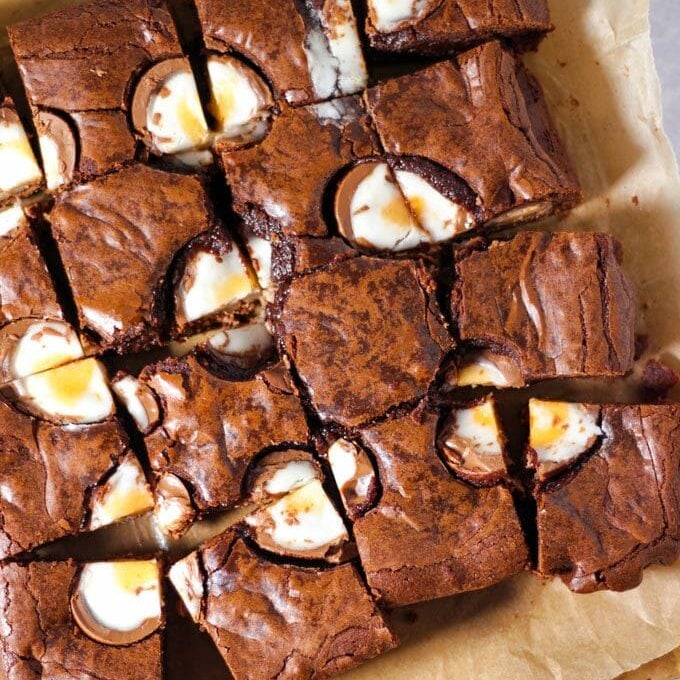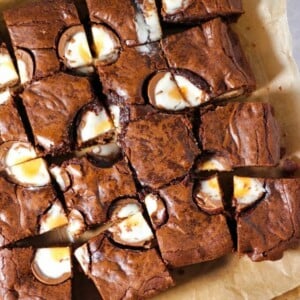 Perfect Creme Egg Brownies
The are the perfect Easter treat – fudgy, gooey chocolate brownies, packed with Cadbury's Creme Eggs, then topped with more Creme Eggs… How will you eat yours?
Ingredients
200

g

70% dark chocolate

100

g

Milk chocolate

250

g

Unsalted butter

300

g

Soft light brown sugar

4

Large eggs

175

g

Plain flour

200g

Mini Cadbury Creme Eggs

,

x2 bags, whole

5

Cadbury Creme Eggs

,

Halved
Instructions
Preheat the oven to 180C.

Line a baking tray with baking paper (I used a 25x25cm tin).

Melt the milk and dark chocolate, butter and sugar together over a low heat.

Once they are melted remove from the heat and leave to cool for 5-10 minutes.

Beat in each egg, one by one.

Pour approx half of the batter in to your tin.

Evenly spread the whole mini Creme Eggs over the mixture.

Top with the remaining batter and smooth out with a spatula. 

Half 5 Creme Eggs and then spread them evenly over the top of the mixture. (I placed them so that each piece had a part of a Creme Egg on).

Bake for 30 minutes, or until the edges are just solid but the middle still has a little wobble. Don't overbake them!
Notes
Cooking timings: Ovens do vary so don't be alarmed if you recipe takes that little bit longer. Brownies are better under-done than over. 
Freeze the Creme Eggs:
To be extra sure that the Creme Eggs don't melt when you are baking the brownies, pop them in the fridge or freezer for an hour.
Cool before cutting:
Be sure to resist and let your brownies cool down fully before cutting. They will fall into a mess if you cut them before they are cold.
Nutrition
Calories:
384
kcal
Carbohydrates:
41
g
Protein:
5
g
Fat:
23
g
Saturated Fat:
14
g
Polyunsaturated Fat:
1
g
Monounsaturated Fat:
5
g
Trans Fat:
1
g
Cholesterol:
77
mg
Sodium:
39
mg
Potassium:
156
mg
Fiber:
2
g
Sugar:
29
g
Vitamin A:
502
IU
Vitamin C:
0.4
mg
Calcium:
69
mg
Iron:
2
mg
Nutrition information is automatically calculated, so should only be used as an approximation.