Read a newer version of this post here: Chocolate Orange Layer Cake
There's one thing that brightens up the grey, dull, post Christmas lull of January and that, my friends, is left over chocolate.
This year I've totally shunned get-fit-go-on-a-diet-January. Instead we're partaking of frugal-use-up-every-last-bit-of-Christmas-January. Of course, this means eating all of that chocolate. What better way to 'use it up' than increase the problem even more, by making into a giant cake. So, here's my last fatty nod to the festive season, let's go out with a bang I say.

(I used these new tin liners from Lakeland: Cake Tin Liners. Despite baking hundreds of cakes at work each week, we'd never tried these. I have to say, I don't love them. If you're leaving a cake naked they leave that horrid ridged edge, they are also a bit of a faff to use. Sorry Lakeland, my love for you is true but we'll stick to cutting our baking parchment.)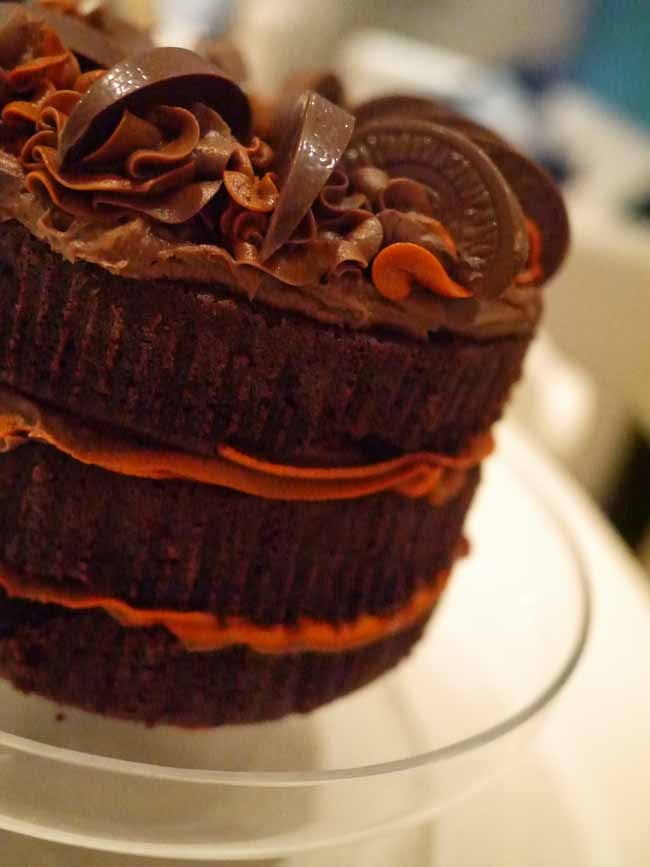 Chocolate Orange Layer Cake
350g Unsalted butter
350g Caster sugar
6 Free range eggs
80g Good quality cocoa
270g Self raising flour
90g Melted dark chocolate
3 Teaspoons of Orange Extract (Waitrose sell a good one and it's only £1.50 which is cheap as chips compared to some good quality extracts: Waitrose Cooks' Homebaking orange extract)
For the icing:
300g Unsalted butter
600g Icing sugar
150g Dark chocolate
3 Teaspoons of Orange Extract
To decorate (if you fancy):
Sugarflair Tangerine Gel Food Colour
Your precious last Terry's Chocolate Orange
1. Grease 3 x 7″ round sandwich tins (or 2 x 8″).
2. Preheat the oven to 180C.
3. Cream your room temperature butter with your sugar until it's pale, light and fluffy.
4. Mix in the eggs, one at a time, beating really well after each egg. Don't worry if it starts to look a bit curdled, it'll all come good.
5. Mix in your flour and cocoa. If you've been using a mixer, do this bit by hand. It helps to keep the sponge light.
6. Stir in the melted and slightly cooled chocolate and the orange extract.
7. Spoon into a your tins, smooth out with the back of a spoon. Make a bit of a dip in the middle to account for rising.
8. Bake for about 30 minutes or until a skewer comes out clean. You might need to adjust the time by 5 minutes either way depending on your oven.
9. Meanwhile make your icing. Beat your butter until it's pale, light and fluffy.
10. Beat in your icing sugar and orange extract.
11. Now split your icing into two bowls, weigh out 675g into one and there should be about 225g left in the other.
12. Add 150g melted and cooled dark chocolate to the 675g bowl of buttercream. Mix in completely.
13. Colour the other bowl of 225g of buttercream orange using Sugarflair Tangerine Gel Colour. Use a very very small amount at a time, just a tip of a knife or so, until you get the colour you fancy.
14. If either batch of buttercream is too stiff, beat in a teaspoon or two of boiling water to soften and lighten the texture of the icing.
15. When your cakes are completely cold, use a carving knife to level them. Just trim the top crust off. Remember, this is important, it's not a waste of cake. If you don't do this, with a cake this size it will be wonky.
12. Top each layer with a spread of your chocolate buttercream. Then pop your favourite nozzle in a piping bag (I used a 2D nozzle) and fill with the rest of your chocolate buttercream in one half of the bag and your orange buttercream in the other half. Squeeze enough icing out of the bag until you get a two tone effect.
13. Pipe a circle around the outside of two of the layers, sit each on the one before.
14. On the top layer, pipe small swirls around the edge and top with your segments of chocolate orange.
Are you still enjoying the last of the festive feasting? Have you had enough of the Christmas chocolates? Or are you on the diet wagon for January?
Sarah x