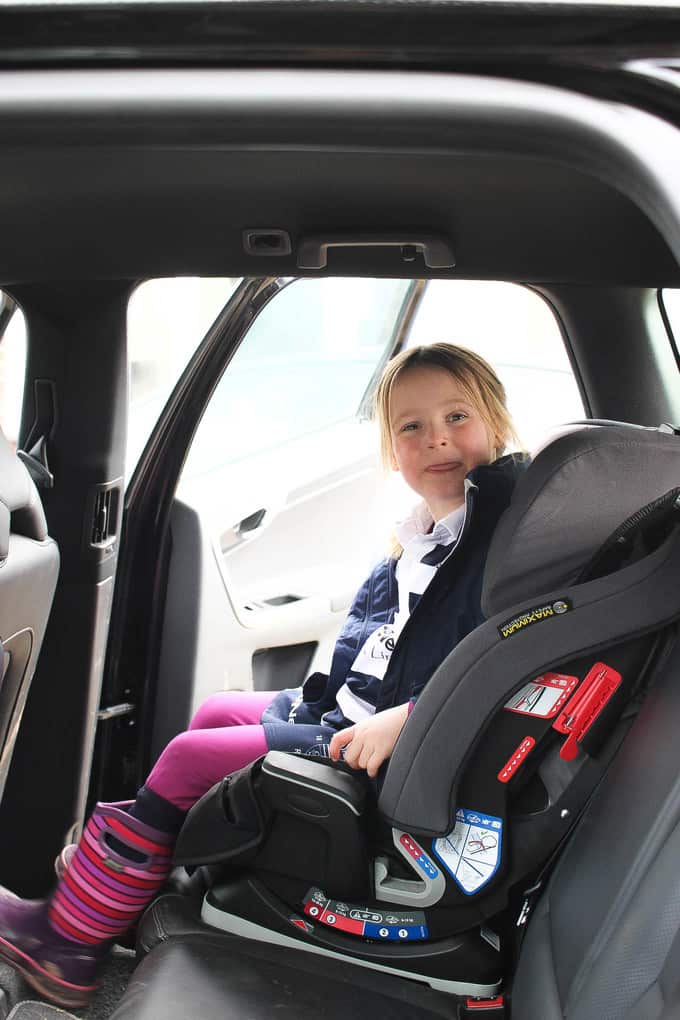 Do you remember that moment of bringing your baby home for the first time in the car? It's such a clear memory for me. We were suddenly allowed out of the hospital and in charge of two actual BABIES. It was a new responsibility and a total joy like no other.
These days our car journeys are marginally less eventful, although we do spend plenty of time buckled up. Going on holiday, visiting family and generally ferrying about each day.
Given that we spend plenty of time in the car (and soon it will be time to think about summer holiday road trips again) I asked some blogger pals for their top tips for long car journeys with kids:
Laminate an 'i spy' picture checklist on a board for each child, with a wipe-clean pen and the kids have to spot certain things- 5 red cars, a plane coming into land (if we're going to be on the M25!), herd of cows, pigs, and a few rare ones to hold interest. (Becky – Spirited Puddle Jumper)
Yes, chocolate and sweets/candy are yummy. But you do not need your children to be on a sugar-high when in an enclosed space. You could always save that chocolate bar or bag of sweets as a treat for good behaviour at the end of the the car/train ride (yes, I use sugar as a bribe, don't judge me). (Elfa – Californian Mum in London)
Spare outfits – for everybody! I cannot emphasise this enough – take more spare clothes with you than you think you will need. You just never know when there will be an exploding nappy, or worse…! (Helena – Baby Foote)
To make stops on the way as smooth as possible, shoes should be practical, and easy to put on and take off. Our little ones always wear wellies with fleece insoles for long journeys, or Crocs. (Mel – Le Coin De Mel)
Timing …with babies and younger children, work with their routine, I used to drive early or late, around a scheduled nap time as they are likely to ZZZZ in the car. (Jade – The Parenting Jungle)
Make sure all tablets / phones / headphones / DVD players are fully charged! (Colette – We're Going on an Adventure)
I always start laying the groundwork a good 2/3 weeks before we go. I'll talk to my son about how we'll be going on a long journey, where we're going to, and how long it will take in relation to the time of something he understands well e.g. the time he spends at preschool. I find if we talk about it a little at least every day then he's generally a lot more relaxed and accepting of the journey when it happens! (Halina – Vie Choufleur)
Some brilliant buys for kids to use on a journey are: Crayola Colour Wonder 'magic' non marking colouring books and pens, Melissa and Doug reusuable stickers and Tomy aquadoodle water mini mats re-usable colouring in mats. (Carrie – Flying with a Baby)
It's a tradition in our household for the kids to select songs for holiday compilation CDs that we will then listen to – over and over and over again – in the car during the journey. By giving our children the opportunity to assist with our pre-trip preparation, they bought in to the journey itself more. (Tim – Slouching Towards Thatcham)
Make sure that snacks are mess free and drinks are non spill. (Beth – Twinderelmo)
Graco have recently launched their new Milestone All-In-One car seat. We tried the Milestone carseat out and loved it for long journeys. The cup holders went down particularly well of course!  This car seat will grow with your child from birth up to 36kg making it one of the only car seats you will ever need.
This convertible car seat has three different modes – transitioning from rear-facing infant car seat (birth to 13kg) to forward-facing 5-point harness seat (9-18kg) to high-back booster (15-36kg). For the best and most comfortable fit for your child, the no-rethread harness system and 10-position headrest allows you to adjust harness and headrest together with just one hand.
What's your must know long journey tip or trick? We'd love to know!
Disclosure: This post was sponsored by Graco. As always, all opinions are truthful. This post contains affiliate links.
Keep in touch on Facebook ¦
Chit chat on Twitter ¦
Never miss a trick on Bloglovin' ¦
Circle with me on Google+ ¦
Pinning like my life depends on it Pinterest