A Bullet Journal review, peek inside my Bullet Journal for the last few months, my daily spreads, weekly spreads, my journaling and to do lists.

If you follow me on Instagram, you may have noticed a little yellow notebook appearing in some of my photos. This, my friends, is my beloved Bullet Journal. You might remember that I wrote a post earlier in the year about how my Bullet Journal had changed my life in just 6 weeks.
It's now been four months since I started so I thought perhaps it was time for a little Bullet Journal review. In just those short months, I've learned heaps about what works for me and what doesn't in my BuJo.
(If you've not heard of a Bullet Journal before, pop over to the link above and there's more info there on what it's all about.)
I also make videos of my Bullet Journal reviews each month, here's my first one:
Bullet Journal Daily Pages
For me, the absolute core of my Bullet Journal is my daily pages, whatever else happens, they are the key to keeping me on the right track each day. Before I go to bed, I tend to review the day and then plan for the coming day. Even if it's only five minutes, that time for my Bullet Journal review gets my mind straight to wake with a clear head.
I've played around a little bit with changing titles and adding the weather, but really, these are one thing that's been pretty static since I started. I don't see me changing them anytime soon, as they are everything I want right now.
Bullet Journal Weekly Spreads
I also use a weekly spread on and off. I started out with a weekly spread splitting reminders for the week and also appointments, but this didn't quite fit.
Things I do love in a weekly spread are; a motivational quote (oh YES!), a split to do list for home and work and a list of things to remember to buy. That's it!
I don't religiously keep a weekly list and sometimes I extend them to 2 weeks (if I've not achieved anything at the end of the first week – oops). They definitely help me to keep focused for the week, when I don't keep one, I regret it by Friday, I should probably remember that!
Bullet Journal Blog Planning
Another spread that I haven't continued using was a monthly editorial plan for the blog and for my YouTube channel.
Somehow, that's just not how my brain sees my blog posts, it's more a to do list when I have posts to write for clients etc. So now, I use a list and I use the WordPress plugin calendar to give me an overview within my blog. It was a pretty idea, but not for me right now.
Bullet Journal Monthly Calendar and Future Log
One problem I really had when I started with the Bullet Journal was the future log. When it comes to days and appointments I do need to see clearly weeks ahead and possibly with lots in one day. For this, I really felt that I needed a traditional calendar layout.
So, I ended up drawing, for each month, a calendar. When I started this in April, I popped it within my normal pages I was using. But quickly I realised that I needed a few months in advance, so for other months, I've put these calendar spreads into the back of the Bullet Journal.
My husband finds it hilarious that I've gone back to paper, and not just any paper, but one I've drawn myself. You know what though, it works for me and I love it, so it's all good!
(I also like a little monthly quote of inspiration.)
Bullet Journal for Weight Loss
I've been trying to stick to eating better, I'm great at eating healthy meals mostly, but everything goes to pot with snacks. I then think, "I've messed up, I'll go craaaaazy". So I devised this spread to try and help me to see, it's about what you do most often that counts.
I mark off healthy meals in one colour, and 'let loose' meals in another. It's really helped to give me perspective and I'll be keeping up with this I think.
I've also been tracking my exercise and steps and that's helped too. I lost 3lb after months of dilly dallying around and losing nothing, so hurrah!
Bullet Journal Journaling
One of the things I've enjoyed most in my Bullet Journal, is actually, journaling. When we've been away and I don't need a to do list ('to do: rest') I've replaced those days with some notes on our trips, or drawings of memories.
It's a little bit of creativity, that I'd never ever have got around to normally, but because my book is right there I do it. I find it so peaceful to find a few moments for memories and gratitude about a trip.
I hope these will be fantastic to look back in years to come. Oh and my scrawl is not the best, but progress not perfection right?!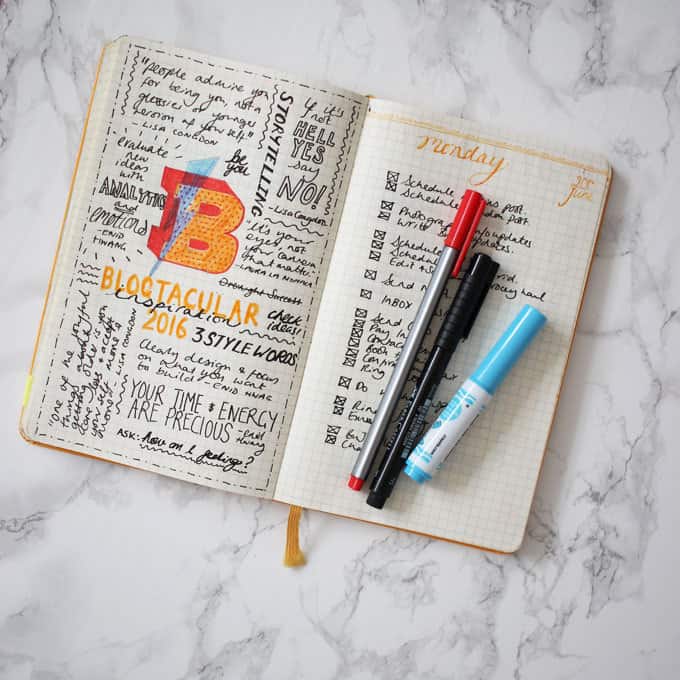 Here are the bits and bobs I use in my journal:
My Bullet Journal Kit
Bullet Journal Review
So, here's what I've learned in 4 months Bullet Journal review..
I love having the snippet of creativity in my day.
It's good for the soul, to focus on progress, instead of perfection.
Even small improvements are worth making an effort for.
I love lists!
I really need to buy and try some brush pens.
I'm a bit terrified of losing my beloved BuJo, what's the answer to that I wonder?!
I still want some kind of master, ongoing to do list, but I'm not sure how yet.
I like marking out timings to keep me on track.
The thought of a new notebook in a couple of months is giving me more excitement than paper should.
I really like the colour orange, more than I realised..
You can never have enough washi tape.
Bullet Journals really bring people together, people are so passionate about them.
English weather is crazy, too crazy for me to try and track!
Have you discovered the BuJo yet?! What's your planner of choice?
Pin my Bullet Journal Review for later..
Keep in touch on Facebook ¦
Chit chat on Twitter ¦
Never miss a trick on Bloglovin' ¦
Circle with me on Google+ ¦
Pinning like my life depends on it Pinterest