I'm not very good at meeting my idols. I once queued up for three hours to meet Nigella. My friend and I waited patiently, edging closer to the front. I carefully considered what I could say to her about how her passion for food had totally inspired me over many years. What I actually said? "Errrr I LOVE YOUR DRESS." (It was amazing to be fair.)
Anyway, I'm never quite sure about the Father Christmas meetings either. The absolute excitement from my children on meeting him last year was magic, but I'm also slightly on edge about that moment where his beard may drop off or they may ask why he looks different to last year.  Mostly though, they love it and I alternate between looking on nervously and weeping with joy at seeing their little faces.
This year, Wyevale Garden Centres kindly invited us to breakfast with Father Christmas and all of my fears were forgotten during a fantastic couple of hours with the big man.

We arrived and were welcomed and seated by the elves. The garden centre wasn't officially open yet, so it was all quiet and felt really special wandering through the twinkling trees and decorations to make our way through.
The tables were laid with festive colouring, chocolate coins and crackers. We all shouted for Santa and eventually he heard us and appeared from outside. Oh that magic moment of spotting him ho ho ho-ing his way in! (Sometimes I wish I was three and a half again, that was one of those moments.)
That's when this Santa experience got even more special. We were all invited up to sing and dance with Santa and the elves (the sight of my husband doing the Hokey Cokey with Father Christmas is one of the funniest things I have ever seen). The children LOVED it. Even my little boy, who normally refuses any kind of organised party fun such as this, he was totally engrossed.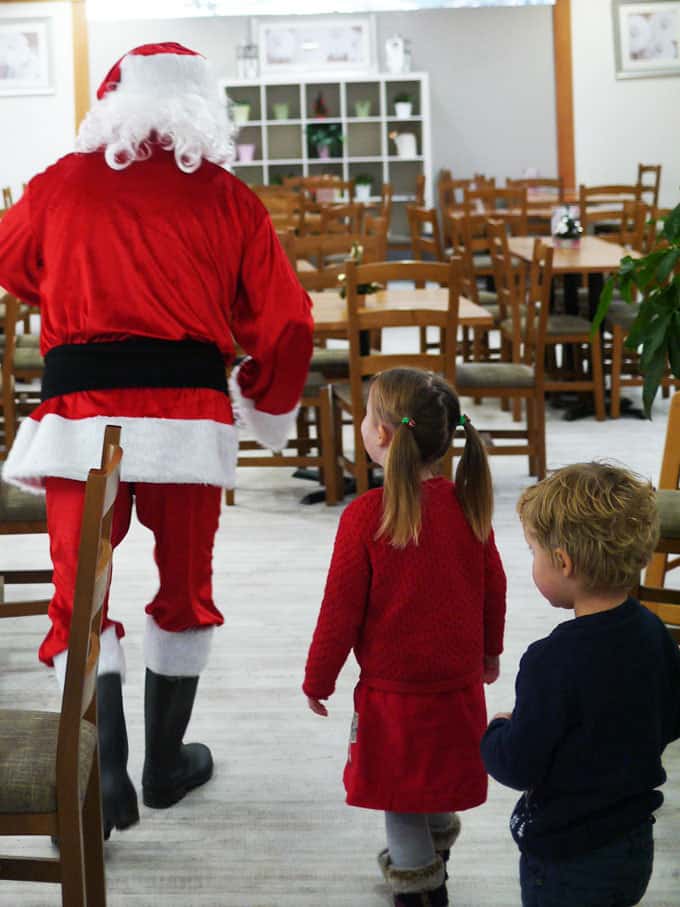 Santa explained that he was popping off to feed his reindeer whilst we ate breakfast and he would be back when we'd finished. We waved him goodbye as a delicious cooked breakfast was served to each of us.

After we'd eaten and done a spot of cracker pulling, the elves brought festive cookies, icing and decorations out for the children. Just as they started decorating Santa re-appeared and came to chat to each of the children about what they were doing.
This was such a lovely moment, one we've never experienced with a Father Christmas visit before. He really interacted, chatted, asked them questions and had little conversations with them as they looked on in total awe. H has been recounting her chat with Santa ever since.

After the cookie decorating was done and some more singing and dancing together, Father Christmas needed a rest so he had a seat in his big chair.. The children went to visit him one by one and were each invited to choose their own gift from the selection around him.
G chose a fire engine and H chose a hairdressing set (damn those gender stereotypes that they keep living up to). A really nice touch to be able to feel grown up enough to make their own choice and the gifts were lovely.
We said a huge thank you and goodbye to Father Christmas and his elves for such a wonderful morning with them. We will definitely be back next year!

Breakfast or tea with Father Christmas is available until 24th December at selected Wyevale Garden Centres. It costs from £3.99 for adults and £9.99 for children. For more information and to book, please visit the website here: Breakfast and Tea with Father Christmas.
Disclosure: Our visit was provided free of charge for the purpose of this review.
Keep in touch on Facebook ¦
Chit chat on Twitter ¦
Never miss a trick on Bloglovin' ¦
Circle with me on Google+ ¦
Pinning like my life depends on it Pinterest ¦