A review of our visit to the beautiful Bluestone, Wales resort. Including what is there to do in Bluestone and what's included at Bluestone.

We arrived at Bluestone, Wales under the bluest sky I've seen in what feels like an age.
Punctuated with perfectly picturesque clouds, I'd forgotten skies could even be this colour. It was the sort of day that makes you want to spend every spare moment turning your face upwards with scrunched up eyes, feeling the sunshine warm your face.
Bluestone is a National Park Resort set in 500 acres of spectacular Pemrokshire countryside.
For the uninitiated, it's something like an independent version of Centre Parcs; but so much more. Their nifty by-line is "Know the Joy of a Free Range Holiday", if that doesn't make you want to run and leap into the nearest puddle, I don't know what will. (Or is that just me?)
My children (particularly the boy one) are like eager puppies. They need exercise and splashing and a bit of roaming free. After a winter full of filthy grey days, resulting in too much sofa time, this was just the tonic.
The Bluestone log cabins are set around a pretty central village square, home to a pub, a few restaurants, a bakery and a couple of small shops. Overlooking the square is a fantastic wooden play area, complete with rope bridges and secret tunnels.
Perfect for a pair of 3 year olds to practise their Fireman Sam rescue techniques.
You can hire your very own golf buggy for the week to get around the resort (or just for the huge entertainment value as we did).
It's not really needed though, even the furthest reaches of the accommodation are only about a 10 or 15 minute walk from the village.

Accommodation:
We stayed in a Gateholm lodge, about 3 minutes walk from the village centre. The upside down layout of the lodge (bedrooms on the ground floor) make the most of the stunning views out across the valley.
The lodge at Bluestone felt brand new.
Clean and well equipped, it really felt like a home from home. I was impressed by the amount of space in the open plan living area, roomy enough for kids to play and everyone to stretch out if you had rainy days during your stay.
Mr TT needed to work on one of the days we were there and the free WiFi in all of the lodges made this so easy.
Things to do in Bluestone, Wales:
Blue Lagoon Waterpark
The onsite leisure pool is perfect for little paddlers.
Plenty of family changing rooms and space to get us all ready without tears, my tiny two could've splashed all day.
There's a lazy river that carries you along outside and back in, which we loved to float around on. There are some fun looking flumes, but unfortunately there's no slides for toddlers.
We still loved the pool though and really enjoyed the wave machine.
Adventure Centre
This is an indoor, all weather play space. Including a huge wooden climbing house, with slides and bridges and secret corners (what's soft play when it's not soft?!)
A separate soft play area for little ones, mini golf, a bouncy castle, climbing wall, the list goes on. This is the perfect area for families if the weather lets you down.
As a mother who has spent many an hour at soft play centres, I can say with experience, this is a good one. Happy children and coffee and WiFi for parents is always a win.

Circus Room
The Circus Room is a new addition for this year.
It's a giant play room for younger children. Mini soft play, balls and lots of sensory toys. We had great fun hiding in the circus tents and building with the giant soft lego.
I particularly loved this room as it was relatively small and safe, so I could see both of them at all times without constantly having to chase them and worry if they could make an escape.
Creche & Rangers
G&H went to the creche for one afternoon for a 'Zoo Adventure' with the lovely nursery staff. The nursery was clean, well equipped and very welcoming. The staff were experts at putting the children at ease and they were so proud of the things they had made when we returned. This is great if you do want to have a bit of grown up time. There are different sessions for different ages, if you can't find one to book online for the age you need, please ring. I did this and they added extra staff to be able to fit us in, super service!
We didn't try any of the rangers activities (where you stay with the children) but if the nursery was anything to go by, I imagine they would be really well organised.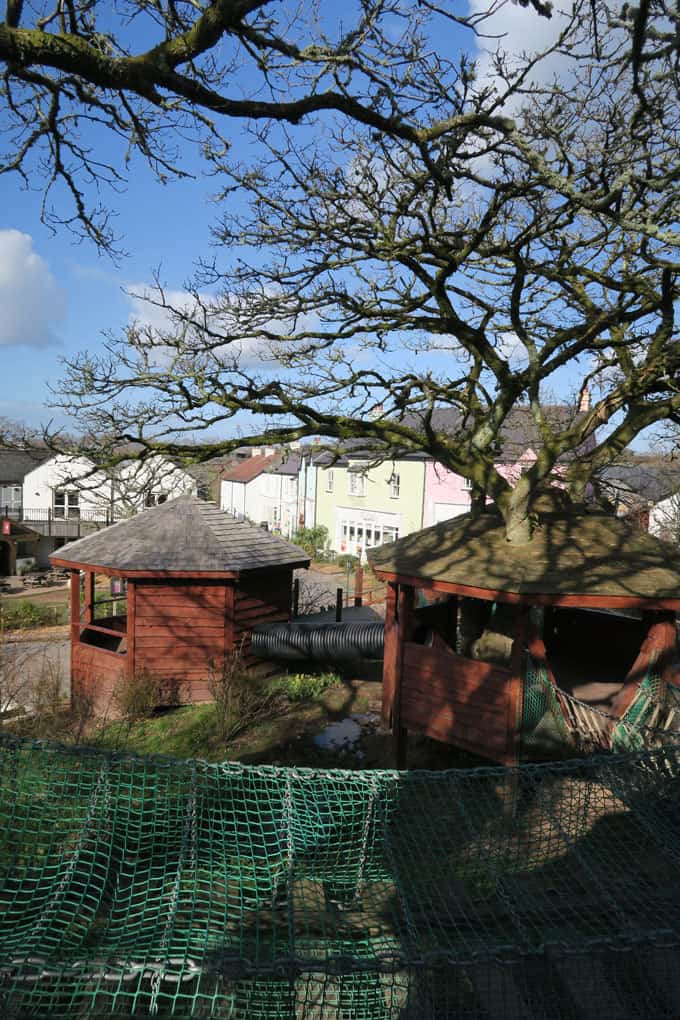 Adventure Activities
Bluestone offer a whole host of activities for adventurous adults and older children. We didn't try any during our stay, but they include zip wires, high ropes, archery, kayaking and tree climbing in the steep ravine to name a few. Next time we visit I think we'll book the children a nursery slot so that I can whoop Mr TT we can learn a new skill together.
Spa
I spent a restful afternoon having my nails painted here and relaxing in the spa itself.
The treatment staff were fantastic and it was a really lovely break.
Look out for the excellent value special offer packages they seem to have on during your stay. They advertise these in the village information shop.
Food on site:
The Knights Tafarn
The 'village pub', Mr TT can confirm, provides ale in takeaway glasses, perfect for watching your children enjoy the play area as dusk begins to settle.
Pretty standard chain pub type food.
Miller's Bakery
Fab fresh coffee, bakes and delicious ice cream.
They sell locally made Welsh cakes, buy them and eat them toasted with butter. Oh be still my heart..
Camp Smokey
A must visit whilst you're at Bluestone.
Descend along a nifty walkway into the forest and you're greeted with a giant campfire and log cabin.
A fantastic experience, the food was fine but it does make for an expensive lunch (about £40 for 2 adults and 2 children).
I'd recommend visiting just for drinks and marshmallow toasting over the fire to enjoy the atmosphere.
Newton Stores
Small but perfectly formed village store. A good selection of the essentials, including plenty of wine and a vast array of children's magazines, clearly they know their market.
(The latter are perfect for bribing children to stay in bed until 7am it turns out.) The prices aren't hideous, but a bit eye watering, so certainly best to stock up before you arrive if you can.
On Thursday we decided to adventure to nearby Tenby.
As a parent of toddlers, sometimes life feels like an uphill battle. You put their shoe on, they take their shoe off. You give them Weetabix, they want Cheerios. You brush their hair, they flush three bananas and a toy tractor down the loo. You know. Then, out of the blue, there are moments, hours, days, where the stars align and everyone is happy and there is no joy quite like it.
That was our day in Tenby.
Perhaps it was because we'd spent a few days unwinding our cogs at Bluestone.
Perhaps it was the awesome fish and chips at Fecci's (accompanied by the largest bottle of ketchup I've ever seen, my daughter has never been so happy).
Or perhaps, it was because running along that beach, that stretched as far as we could see and then a bit more, under the cobalt sky, flying kites and howling with laughter, nothing mattered.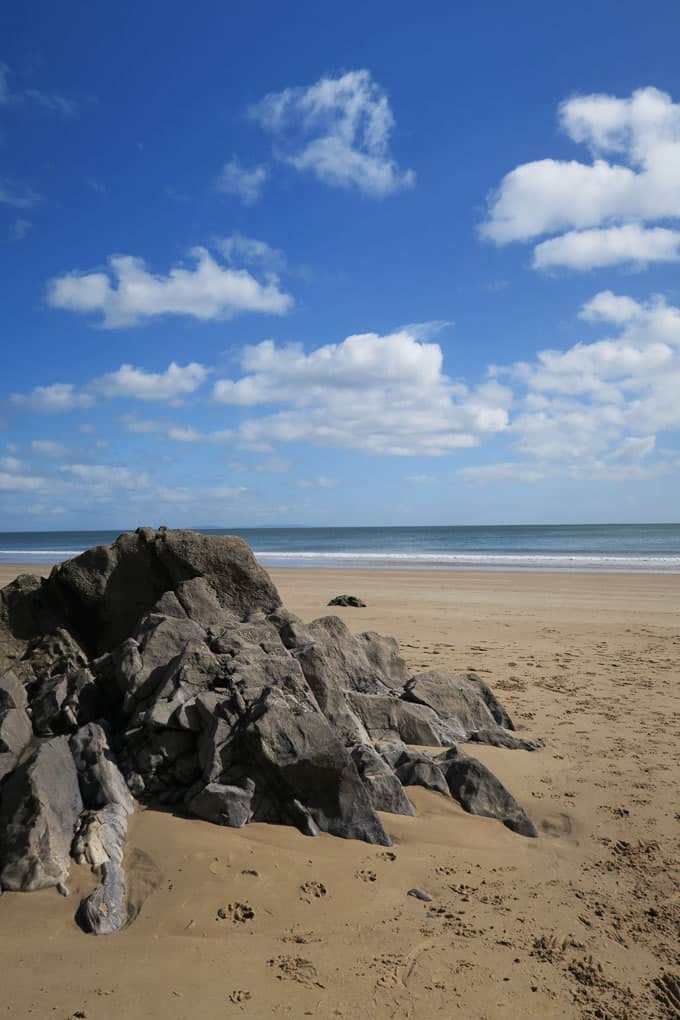 Things we loved at Bluestone:
The atmosphere was the main gem at Bluestone. The over riding feeling of the place is calm, relaxed and peaceful. You can't help but let this rub off on you. I found this a total contrast to Centre Parcs which felt very busy to me somehow.
The absolutely stunning location and views. I couldn't stop looking at those big skies. Totally magical.
The online booking system for activities was easy to use and navigate.
The free Wifi everywhere.
The golf buggies were super fun.
Spacious, modern, well equipped lodges with awesome showers.
The fact that there are heaps of activities, rain or shine.
The not so loved bits:
I booked a spa treatment as well as a visit to the Thermae Spa (£35). I hadn't quite realised that the Thermae Spa is basically 5 different saunas and a hot tub. Next time I think I wouldn't bother with the spa itself and instead would spend more on a longer treatment.
The locking system for the main front doors of the lodge left me a bit nervous. They cannot be double locked from the inside, so a toddler could just open the front door from the inside and get out at any time. I had visions of them roaming around at night. I am sure this is due to fire safety regulations or similar and I'm pleased to say that we didn't have an escapees.
Just a couple of tiny things that could be improved in an otherwise, utterly wonderful week.

We're so lucky to have a home I love and a life I love, that mostly, after a week on holiday I am ready to get back to our normal.
At the end of our time in Pembrokshire? I could happily have stayed another week or three.
(Also check out 5 Things to Do with Kids in Pembrokeshire!)
Thank you to Bluestone, Wales National Park Resort for inviting us to stay for the week for the purpose of this review.