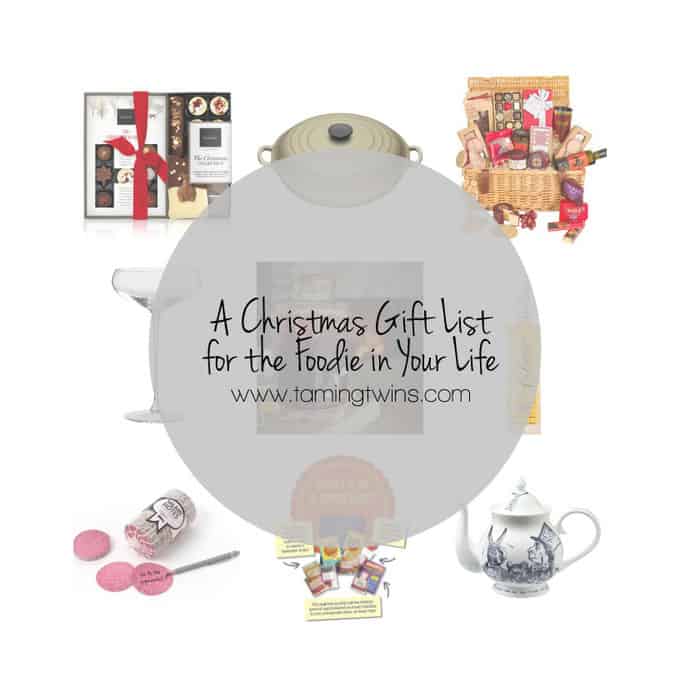 As I mentioned last week, Mr TT doesn't make Christmas wishlists, I on the other hand like to give my spouse a helping hand. I've subtly dropped a few hints and updated the Amazon wishlist but sometimes you just need to put it right out there don't you? A point in the right direction isn't too presumptuous is it?
So, if you're a very slightly alternative foodie, who likes tea, stationery and can't make a curry to save her life (like me), I thought I'd share my wishlist with you, for you to ever so subtly share with your nearest and dearest. Here we go…
1. Hotel Chocolat Luxury Christmas Box (£35) My love for Hotel Chocolat is pure and true all year, but at Christmas they really come into their own. I love this box with a whole selection of festive treats. Perfect for Christmas afternoon (or breakfast) nibbling.
2. Le Creuset Buffet Casserole, 30 cm – Almond
 (£128) Now look, Le Creuset is clearly not a discount purchase but they last a lifetime (really is true, they come with a lifetime guarantee). They are the ultimate purchase for foodies with a love of quality, sturdy kitchen gear. This buffet dish has been on my wishlist for years and I'm ever so slightly in love with it.
3. Food Glorious Food Gift Hamper (£74.99) For anyone that loves food (or just Christmas indulgence) opening a hamper is like opening a treasure trove. There's something so special about a selection that's been picked and packed in a gorgeous basket, just for you. (Scroll to the end of this post and you can win this very hamper!)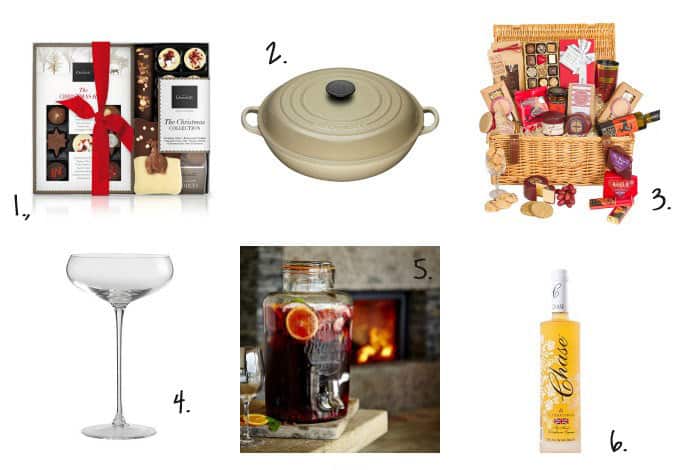 4. LSA Bar Collection Champagne Saucers (£43.99) What's better than champagne? Champagne served in a champagne saucer of course. The ultimate in boozing elegance, I really do need these in my life rather urgently.
5. Kilner Drinks Dispenser (£29.99) These drinks dispensers make a perfect centrepiece for any party or gathering. Kilner is the ultimate in well made glassware, so this is the one that's firmly on my wishlist.
6. Chase Elderflower Liqueur 50 cl (£19.50) If that very lovely drinks dispenser appears, I need something suitably exciting to fill it with and I think in preparation for spring time, an Elderflower cocktail 
could be just the thing.
7. Salami Notes £9 Tired of your standard sticky notes or scribbles tucked in recipe books? Fret no longer! This is the answer. Salami shaped sticky notes are what every stationery and food loving person needs in their stock this year.
8. 3 Month Friday Night Curry Subscription (£20) I'm ashamed to admit that as much as I love food, I still can't quite master cooking curry. I have one recipe that I always use and if I deviate from that, I either seem to end up with a slightly boring stew or I make poor Mr TTs eyes water (and not in a good way). This monthly subscription, would help to educate any foodie in your life.
9. Alice in Wonderland Tea Party Teapot (£35) I am at my happiest with a pot of tea and a log fire (I know, I too think I may secretly be 90). I've loved my beautiful Emma Bridgewater teapots, but I have to say that sadly I don't find them that hardy. After just 2 or 3 years mine has a few chips. I'm hoping that Whittard and their quirky Alice in Wonderland gem might solve my tea party needs.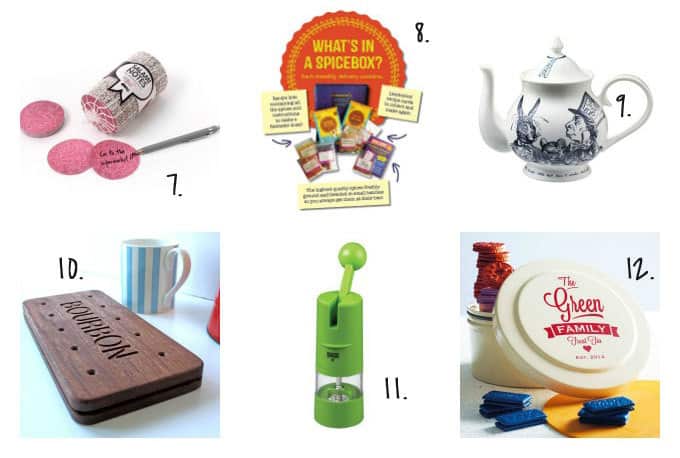 10. Bourbon Biscuit Wooden Serving Platter (£19.95) I do love a platter of cheese, or antipasti or biscuits in fact. What better than to serve it on a biscuit? This quirky board is just the thing for a biscuit lover.
11. Kuhn Rikon Ratchet Grinder Green
 (£17.40) I use freshly ground pepper in almost every savoury recipe I make and sometimes the grinding for a giant pot of something bubbling on the stove does get a little repetitive. This nifty gadget grinds the pepper with a quick up and down motion which, whilst I appreciate that this makes me a total foodie nerd, would please me greatly.
12. Personalised Cake Tin (£45) With this super stylish cake tin, the baker in your life could store their creations with pride. It would make a fab family gift too, what family doesn't need a personalised treat tin?
Hope you've enjoyed my top foodie picks, now you can enter below to win your very own hamper.
What's on your festive foodie wishlist this year?
Sarah x
I was provided with a hamper free of charge but all opinions are my own.

Let's be friends..
Picture this on Instagram ¦
Keep in touch on Facebook ¦
Chit chat on Twitter ¦
Never miss a trick on Bloglovin' ¦
Circle with me on Google+ ¦
Pinning like my life depends on it Pinterest ¦

Win competitions at ThePrizeFinder.com