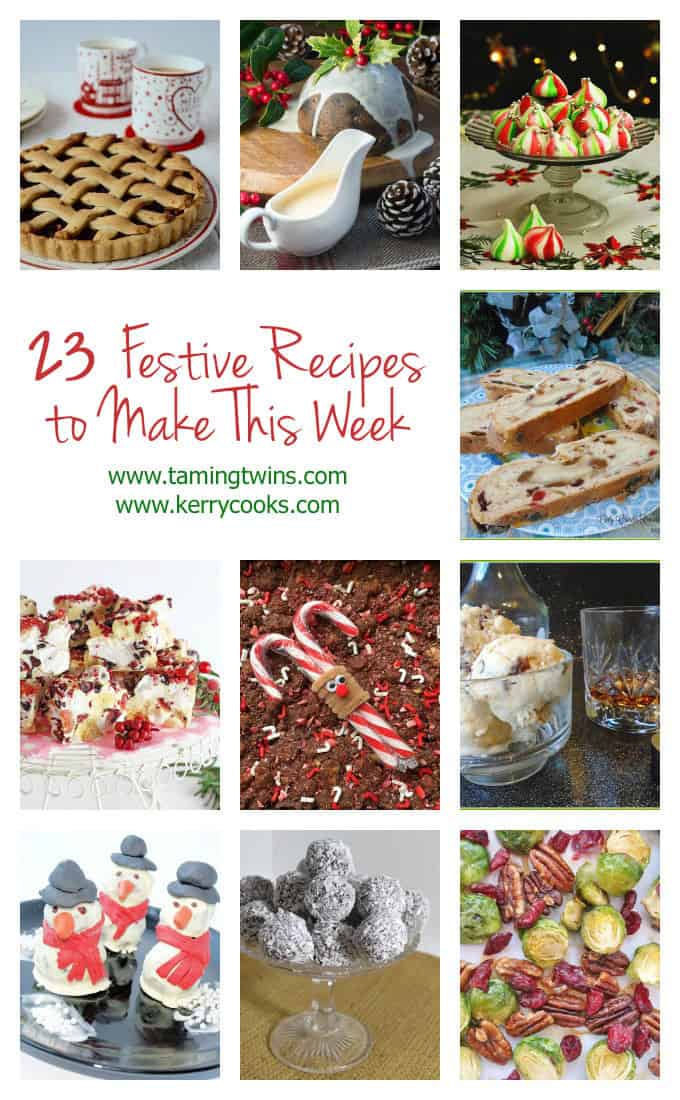 How's are you enjoying December? Every year I make a promise that I won't make mine too busy and what have I done? Crammed something into every last moment as always. Perhaps it's time to accept the fact that that's no bad thing. It's all seeing people I care about, exciting work and gift making and buying (which I love). So I'm going to try and embrace it this week (and find time to sit for a minute or too to test out my damson gin..!)
I've also been doing Vlogmas over on YouTube. If you're not familiar, it's where some loony people vlog every day in December. I've joined them this year. Now clearly that is adding to my December crazy, but you know, I'm really enjoying it. It's showing me that YouTube videos don't always have to be perfect and sometimes it's just a good way of sharing life. Pop over to see us decorate our tree, make the easiest ever mince pies and nearly get a divorce. (I won the argument. We got two trees!)
Last Friday here on the blog, I shared my Chocolate Orange Layer Cake with you (not actually shared, sadly, the internet doesn't quite allow us to share real cake just yet) and Kerry at Kerry Cooks and I hosted our blogger event, Festive Food Friday, asking people so share their seasonal recipes to inspire us.
Thanks so much to everyone who linked up, we LOVED reading these. If you're looking for festive inspiration, these are the recipes featured in the image above (L – R).
Cocoa Nib Mincemeat Tart by Julie's Family Kitchen
Brandy and Orange Custard by Charlotte's Lively Kitchen
Christmas Elf Meringue Kisses by Supper in the Suburbs
Stollen by Only Crumbs Remain
Festive White Chocolate Rocky Road by MyFussyEater
Candy Cane Rocky Road by Foodie Quine
Christmas Pudding and Brandy Sauce Ice Cream by Only Crumbs Remain
Oreo Truffle Snowmen by Jo's Kitchen
Coconut Bliss Balls by Tin & Thyme
How to Make Sprouts Interesting by Easy Peasy Foodie
Chocolate Orange Cookies by Nic's Bakes
Christmas Tree Wreath Cake by ET Speaks from Home
Top 3 Christmas Crack Recipes by The Savvy Ages
Chocolate Bomb Boom by Easy Peasy Lemon Squeezy
Santa's Belly Jelly by A Strong Coffee
Festive Christmas Chocolate Bark by Kerry Cooks
Mint Chocolate Christmas Tree Cupcakes by A Strong Coffee
Eat-Sum-More Cookies by Herbs Spices Tradition
A Healthy Alternative Christmas Cake by FreeFromFairy
Homemade Chilli Sauce by Tales from the Kitchen Shed
Easy Peasy Christmas Turkey Traybake by Easy Peasy Foodie
Menorah Waffles Chanukah Breakfast by Family Friends Food
Freezing a Cheesy Turkey Cobbler by Yet Another Blogging Mummy
Thank you all for sharing your recipes with my readers and the followers of our giant Pinterest board. If you'd like to link up this week, please read how below..
Follow TamingTwins.com's board Festive Food Friday on Pinterest.


So! Fancy showing us what festive food love you're feeling this week? Here's how it works:
Instagram
Tag any festive food or drink photos with #festivefoodfriday.
Each week Kerry and I will pick some of the most mouthwatering/funny/calorific and repost them.
You can follow me @tamingtwins and Kerry at @kerryedwards. Please say hello!
Blog Linky
Please add the badge below to your post. (Just highlight the bit in the text box and pop it in the HTML of your blog post.)
Link up your festive season food or drink posts using the widget below. They can be recipes, round ups, drinks, meals out, anything that's inspiring to festive food lovers.
Old and new posts are welcome.
You can add up to 5 posts each week if you'd like.
We will pin all of the posts added to the Pinterest board, which has over 400,000 followers.
The linky will be open until midday Tuesday the following week.
Please visit and comment on at least 2 of the other posts that have linked up, per post that you add. Spread that Christmas cheer! This really helps to make the community.
If you follow us on Twitter and tweet a link mentioning @tamingtwins and/or @kerrycooksblog and #festivefoodfriday, we will RT them.
Each week we will write a round up on one of our blogs, linking to every post linked from the week before (this will include a photo from your post – please only enter if that's okay).
Please spread the word, the more the merrier!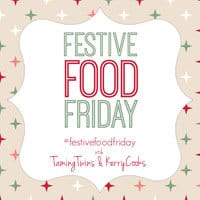 Can't wait to see what festive makes and bakes you have in store for the last Festive Food Friday. Don't forget to share on Instagram too by using #festivefoodfriday.
Keep in touch on Facebook ¦
Chit chat on Twitter ¦
Never miss a trick on Bloglovin' ¦
Circle with me on Google+ ¦
Pinning like my life depends on it Pinterest ¦